The Move to Japan and Camp 3D Kawasaki
The Japanese made us fill out a questionnaire which would identify any skills we had, or previous trades we had worked in. This was used by them to assign us to the "appropriate" forced labour they made us toil at. I had worked as a lumberjack in Ontario and B.C., so while at the Tsurumi Camp I worked nearly the whole two years cutting trees, breaking up stumps and clearing brush for firewood. I worked with a thirty-five inch sledge hammer and a small axe. I remember working with Pte. Billy Boulette cutting down trees with a one-way lumber saw. This made our work twice as difficult because the blades only cut in one direction. Billy had been a prospector prior to the war, and after our liberation he continued on in the prospecting field. In fact, he always carried a large nugget of gold on a chain around his neck. He offered that nugget to me as a gift on my wedding day. I politely refused it because I knew how valuable it was to him.
One day in late March before we left the camp, I was a member of a fatigue party which was taking Red Cross parcels from the Quartermaster stores to the kitchen. These supplies were under the care of an American Naval Lieutenant named Finn. Sergeant-Major Henderson of the Royal Rifles worked under Finn. Nakamura was at the Quartermaster Stores and I heard him say to Lieutenant Finn that he needed twenty-one Red Cross parcels kept aside for the personal use of "his guests". The rest he said could be used for the prisoners. The Japanese quite often kept the best from the prisoner's parcels for themselves.
On another occasion, I witnessed the beating of Pte. Mike Soroka, with a leather belt. This occurred on the parade square. An officer we called "Baba", and another named Yamanaka, were present at the time. I understood that Soroka had been beaten because of a deal over a pair of army boots which he had given to S/Sgt. West. West had apparently sold them to a member of the Japanese police. After Soroka was beaten with a belt around the face the Jap guards poured water on him from a fire extinguisher. As far as I know S/Sgt. West was also beaten. I did not see this happen, but he was taken to a guard room and I could hear the noise of the beating that he received coming from there.
I was also forced to labour on repairing an airport called Kai Tak, which the Japanese had earlier bombed when they invaded Hong Kong. Now the Japanese desperately needed this runaway for their own planes. This area was the site of a holy mountain. I remember that our first chore was to remove the bones and ash of thousands of human remains that were piled up on the holy mountain there. We then worked on clearing trees and shrubs in order to extend the runways.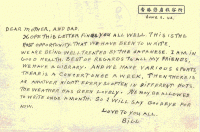 During our time at Sham Shui Po, North Point, Tsurumi, and Suwa the prisoners suffered from a variety of diseases. This included Beriberi (from poor nutrition and a lack of Thiamine, as well as moldy rice), Malaria, and bloating to the feet and ankles which sometimes was referred to as "electric feet" where the toes turned down. The only relief at times was to lie in our hut with cool rocks on your feet which were collected outside. The lack of food was always something that was on our minds, and any stray rat or dog that came to wander near camp would be appropriately shared for lunch amongst the men.
112 POW's died in the first year of captivity, mainly from Diphtheria (we were never inoculated before leaving Canada). There was never enough medicine to go around and the doctors literally had to choose who would live and who would die. Between 3 and 5 POW's were buried per day.
I remember on one occasion watching a high ranking officer, whom the prisoners believed to be Japan's Emperor Hirohito, ride by us on a white horse. I'm really not sure if it was Hirohito or not, but that's what everyone thought at the time. I also remember at some point during my captivity, that some of us POW's put together what money we had earned and we bought a horse from outside the camp. After much improvisation we were eventually able to slaughter the poor animal with a makeshift knife. That poor horse struggled for survival as much as we did. We cooked up the horse in one of the large pots used to boil rice. One thing I remember quite vividly was seeing the horseshoes stirring in the pot still attached to portions of the legs. To our dismay, there was a lot of rich fat in the resulting stew and many of us became extremely sick because of the protein intake we were not used to.
On September 6th, 1944, my family received a letter from Colonel Clarke advising that, "The Gripsholm had recently arrived in Japan with enough supplies for 3100 persons for six months including medicine, food, shoe repair material, and Red Cross parcels". Word was also received by families that the Red Cross hoped to have a cable service established soon so that messages could be sent between Hong Kong prisoners and relatives. They would be allowed one cable per year, paid for by the Red Cross, consisting of only 10 words. Later that year word was received by the family that letters could now be sent to the POW camps and should be addressed to "Huryojohokyoku", meaning "Prisoner of War Information Bureau". A limit of one letter per month consisting of 25 words per letter would be allowed. Letters to POW's required prepaid postage of 5 cents.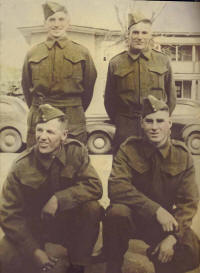 Another letter was received from Col. Clarke apologizing for all the delays with the mail service. All letters to and from prisoners first had to go to Japan for censorship. A letter received by family on November 4th, 1943, from James Downie in a Yokohama Camp advises, "We are being treated well by the Japanese. I'm here with Bill Morris, Nicholson, Chick Query, Frank Breakwell, Roy Stodgell, William Bell, Jack Stephens, Bill Hall, Jim Houston and Fred Gard." On December 16th, 1943, a letter received by family from Pte. Jack Stephens mentions that "Bill Bell and I are the only ones left of the old gang now. We are working on the same job together. We talk all day long and never get tired of listening to each other."
Another letter received by family on November 4th, 1943, from James Downie in a Yokohama Camp advises that "We are being treated well by the Japanese. I'm here with Bill Morris, Nicholson, Chick Query, Frank Breakwell, Roy Stodgell, William Bell, Jack Stephens, Bill Hall, Jim Houston and Fred Gard." These letters were always censored by the Japanese, and if any mention was made of the war the letters would be filtered out.
In 1944, I heard of an accident at another camp in Nagasaki where the prisoners were made to labour in the coal mines. This was the same camp that my neighbour, W.G. George Nobiss was imprisoned. Large amounts of snow on the roofs of the camp prison huts caused one of them to collapse. Many POW's were wounded and killed as a result. Some were killed instantly and others lay in a semi-prone position for weeks and months while healing. I later was to learn that one of those killed instantly in the collapse of the roof on February 22nd, 1944, was my very good friend Norman Matthews (pictured above with his brother, Denis). Denis was killed during the battle on Christmas Day, and sadly, neither one had lived to return home after the war.
Three of the men I knew well were the McKnight brothers, Mel, Gerald and Elmer. I had played in the Grenadier Band with them. They tried to keep spirits up in camp by forming a small group of musicians, and they would play whenever a play or concert was put on by the men. I remember one Christmas we gathered any tree branches we could find and built a small Christmas tree in order to make things a little more festive.