Prisoner of War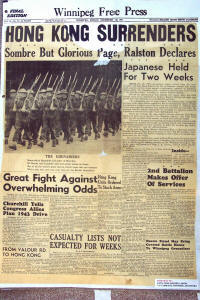 On about the 26th of December the Japanese picked out about 200 of the most fit of us and sent us to Sham Shui Po Camp. When we first arrived at Sham Shui Po the camp was completely disorganized. At Sham Shui Po I met up with my brother Gordon for the last time, where he was able to nurse the wounds I sustained during the battle. When the Japanese discovered that Gordon and I were brothers we were separated into different camps. I would never see Gordon alive again.
One of our Medical Officers was Major John Crawford, who had also served with the Grenadiers in Jamaica and Bermuda. He had a difficult time treating the large numbers of medical problems while coping with a lack of medicine and equipment. I remember on one occasion a group of men worked at repairing a straight razor so it could be used for surgical procedures. There was a large nick out of the blade and the men used sharp stones to make the blade as true as possible.
On January 22nd, 1942, I was then transferred to North Point POW camp in the Kowloon area of Hong Kong. When we were first marched into North Point we saw ditches full of decaying bodies of Chinese that had been left where they lay. We were paraded down the main street of Kowloon where I remember being spat on by many people, including civilians, as we passed by them. North Point conditions were absolutely deplorable. We only received rice leftovers which were very often mixed with maggots and rat droppings. Many of the men came down with dysentery and before long we were all suffering from what would be 42 months of malnutrition. The camp commandant was a Japanese named Lieutenant Wadda. He was about 35 years old.
Not long after we arrived at North Point a Chinese man who had been thrown out of his home up in the hills came down to our camp. I can still see in my mind this poor man who had lost everything, running along the outside of the camp fence trying to get a handout. Without warning, a Japanese guard took out his sword and brutally cut his head off in front of all of us. The Japanese wasted no time in demonstrating who was in charge over us.
July 7th, 1942, the Canadian Red Cross sent a load of supplies overseas aboard the ship Gripsholm. I don't recall ever seeing any of this shipload of 150 tons of cigarettes, food and medical supplies. It was reported to my family in a letter from Lt. Colonel F.W. Clarke (DND Officer in Ottawa who was specially charged with Welfare of POW's) that "Treatment of the prisoners is good and food supply is much better." This could not have been further from the truth.
While I was at North Point, one of the British soldiers passed away. I remember the funeral and that there was a Buddhist priest that came to do the funeral service with incense and all. I was quite often assigned to burial detail. After the service, we loaded the soldier's body onto a small cart which ran on two bicycle wheels, and transported him down to the camp crematorium. This was the cart we always used to haul away the bodies of the less fortunate that would pass away almost on a daily basis.
That night I remember having the most strange and vivid dream. I was in heaven standing in front of two large, heavy, metal doors. I knocked on the doors and when one door opened I called out for the British soldier that had died earlier that day. All I remember is that it was totally black on the other side and I was told that the soldier wasn't there. The next day I went searching for his name on the postings, but could not find it listed anywhere. The mind plays strange tricks on a person who is subjected to starvation, isolation, and cruel treatment.
Another letter received by my family from Colonel Clarke stated that "magazines, books, games and other comforts were to be sent on a second sailing of the GRIPSHOLM from New York on October 29th, 1942". They were hoping to send "winter and summer uniforms, warm clothing, boots and blankets before the cold winter weather set in. This shipment was to proceed to Russia and would continue to the Orient when a steamer was available". I can safely say that I don't recall seeing any of these supplies.
For many months, our families were totally unaware of our fate. On August 12th, 1942, my mother, Rachel, received a letter from the military advising that there was "a forthcoming list of approximately 300 men that could not be accounted for". It wasn't until October 13th, 1942, that my mother finally received an official telegram advising that I was "a prisoner of war and being held in a Hong Kong camp".