The Move to Japan
I didn't know it at the time, but on January 13th, 1943, my father passed away back home in Winnipeg. Six days later, on January 19th, 1943, 0500 hours, I was taken from Sham Shui Po Camp along with 663 other prisoners. We were loaded into the hold of a freighter called the Tatuta Maru (originally called the Tatsuta Maru, but renamed in 1938) for transport to Japan. This ship weighed in at 16,975 tons and was commissioned in 1930. Not long after I was transported on the Tatsuta Maru it was torpedoed and sunk in 1943 by the USS Tarpon.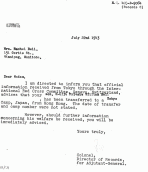 On my ship were many of my close comrades such as Bert Delbridge, Alfie Matthews, Angus McRitchie, Fred Sadova, Roy Stodgell, Charles Trick, Cecil Whalen, Les Adams, Jack Stephens. I recently learned that I was also on the same ship as Lance Ross of the Royal Rifles (recently inducted into the Canadian Veterans Hall of Honour). Word of my transfer to Tokyo was not received back home in Winnipeg until six months later, when a telegram was received by family on July 13th of that year.
We shipped out at 1300 hours and soon found that there was little air to breathe. Soon, we were all seasick and suffering from dysentery. We all literally had to lay in vomit and excrement for the entire trip. Over the next 15 months another 550 were shipped to Japan under the same conditions. Seven months later, my brother, Gordon, was also transported to Japan in the same manner. The Tatsuta Maru arrived in Nagasaki, Japan on January 24th, 1943, 0700 hours. We were then put on an electric train for a 10 mile trip to Tokyo. We were accompanied on this train by some of the Emperor's guards who were smartly dressed in fine uniforms. We arrived in Tokyo and switched to a different train. We traveled on to Yokohama where we exited the train and were marched about three miles to Camp 3-D Kawasaki.
When we arrived at this camp in Yokohama we were covered in absolute filth. Little did we realize when we arrived there how horrifying the conditions at our Japanese camp would be; even worse than those we endured in Hong Kong. The camp commandant at 3-D was a Lieutenant named Wamori. He was well-built, approximately 40 years of age, almost 6' in height, broad shoulders, 170 lbs and clean-shaven. This camp was the Yokohama-shi, Tsurumi-ku, Suyehiro-cho, 1-chrome, Japan. Close by were the Nihon Ironworks and the Tsurumi Shipyard. At Camp 3-D we were all assigned a prisoner number which had to be worn on the front of our outer garment. My number was # 343. Eventually Wamori was succeeded by a Lieutenant Nakamura who was short and stocky, 5'4", 155 lbs., and about 35 years old.