Before Hong Kong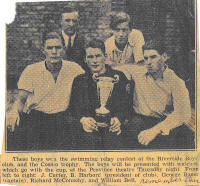 During the 1930's times were extremely difficult as a result of the Great Depression. Everyone had to do their part to help the family finances. I was compelled to quit school after completing Grade 7 and worked at whatever jobs I could find to help supplement the family income. Dad was a butcher by trade, but everybody struggled in those difficult years. In 1933, I worked as a plumber's helper and then went to work as a bushman in Lac Seul, Ontario. At the age of sixteen, I left Manitoba and headed off to British Columbia to work as a lumberjack.
After working there a while I returned to Winnipeg. The railways were full of men hitching rides across Canada in the search for employment. In 1939, like many others looking for work after the depression, I again returned to British Columbia to lumberjack. This time I was accompanied with my good friends Jack Stephens, and brothers Norman and Denis Matthews. We had grown up together, attended the same schools, and were also all members of the "Riverside Boys Swim Club" in downtown Winnipeg. Two other members of our swim club were Jack Tully who was killed in the Battle of Dieppe, and Gowan Teasdale, also a Winnipeg Grenadier, who was killed in the Battle of Hong Kong.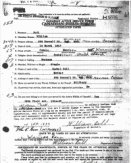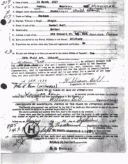 Upon learning of the outbreak of war, we all returned to Winnipeg as fast as we could. On September 13th, 1939, I headed down to Minto Barracks in Winnipeg, along with my brother Gordon and most of my best friends, such as George Humberger, Jack Stephens, Denis Matthews and his brother Norman Matthews. The first regiment to become active was the Winnipeg Grenadiers, so we all signed up with them. I was 22 years old and brother, Gordon, was 19 years.

I was assigned to "A" Company and we were all transferred to Fort Osborne Barracks for 6 months of basic training.

When we first signed up with the Winnipeg Grenadiers many of us were issued uniforms that dated back to World War I. This even included First World War underwear. I was assigned to Platoon Number 5 along with my brother, Gordon, and friends Denis and Norman Matthews, Les Adams, and George Berzenski. Our platoon non-commissioned officers were Corporal Edward Dunsford, Lance/Corporal J. F. Vickers, and Sergeant Edward H. Rodgers.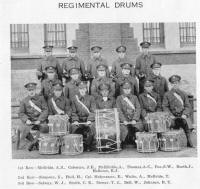 On June 1st, 1940, I shipped out with my brother and the rest of our regiment to the British West Indies. Approximately 100 Winnipeg Grenadiers, including Gordon and I, were sent to Bermuda to perform ship guard duties while the remainder of the regiment went on to Jamaica. While we were there for 2 1/2 months we boarded numerous ships to check manifests and crews. Later that summer, we said goodbye to Bermuda when ordered to regroup with our regiment in Jamaica. On August 31st, 1940, we disembarked at Kingston, Jamaica and were assigned to the light infantry of the King's Shropshire 2nd. Battalion. We stayed in Jamaica for approximately 1 year performing various garrison duties.
One of my duties as an RP (Regimental Police Officer) while in the West Indies was to guard an internment camp of German and Italian prisoners in Jamaica. I have some wonderful memories of my time spent in the Caribbean, including Jamaican rum and Blue Mountain Coffee. One particular delicacy I remember was the terrific "rum-flavoured ice-cream" we used to buy. I've never tasted ice-cream like that since.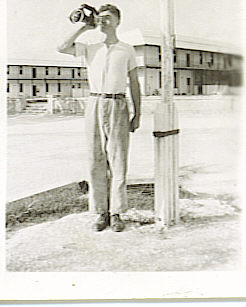 While I was in Jamaica, one of our assignments was to perform guard duty. It was pretty boring at times, but one thing that always cheered us up was a visit from one of our supervisors that we had great respect for, Lieutenant Neil Bardal. Neil used to ride around on a bike to visit us while we were at our posts. I fondly remember his visits because he always had a bottle of Jamaican rum under his coat to offer those on guard duty a small shot.
A Dutch submarine put into port while I was in Jamaica. We got to know those men pretty well and they offered us cheese and canned fish in return for our hospitality. These sailors had been at sea for six months, and one night while on leave, we took these sailors out on the town. I remember we all ended up feeling pretty good by the end of it all. I don't remember many details about that night, but I do recall a large amount of rum being drunk and us grenadiers loading those Dutch sailors onto horse-drawn carts to get them back to their ship.
There was a favourite party spot in Jamaica called the "Sun-Sun Café". One night while I was on duty as an R.P. there was a monstrous brawl at the Sun-Sun involving the British, the Canadians, and I don't know who else. I remember there used to be a bit of animosity between the two groups because we Canadians got paid a little more than the British soldiers. It was quite a mix-up that night and we had our hands full trying to break up the ruckus.
While in Jamaica I even had the opportunity to accompany a few Hollywood actresses, including Alice Faye, on afternoon shopping trips. As well, I had the honour to guard the Duke of Windsor, who was the Governor of Jamaica. You can see by the photo below, one of my duties was to perform surveillance from a rooftop when the Governor visited. After the ceremonies were completed and the officers retired to relax, the Duke of Windsor spoke to us briefly and reminded us to be sure and "have a drink of rum on him".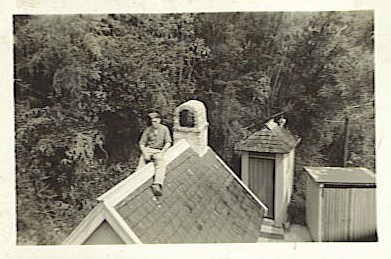 I remember my brother Gordon had developed a carbuncle on the back of his neck and one of the British medical officers lanced it to help it heal. I was very upset about the poor job that had been done on Gordon and his neck was left quite a mess as a result. Gordon then developed another carbuncle, but this one unfortunately developed in a most precarious spot, his buttock. Some of the men suggested that one way to deal with a carbuncle was to heat up a glass bottle, place it onto the skin, and as it cooled the vacuum would suck out the head of the carbuncle.
Well, it was no time before Gordon was lying in the hut on his bunk with a hot bottle stuck to his "derriére". I remember the streams of fellow prisoners filing by to make fun of Gordon with this bottle stuck on his behind. I can say though that the hot bottle trick worked wonderfully by drawing out the infection, and in no time the carbuncle was all healed up.
Not all of our time in "paradise" was perfect. There were many of us that suffered from tropical ailments while we were in the British West Indies. In September, 1940, I was admitted to the British military hospital in Kingston suffering from Dengue Fever. I also endured several stays again at this hospital suffering from severe Trychophytosis to both feet in January, 1941.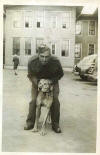 While we were in Jamaica our regiment befriended a dog that we named "Queenie", who quickly became our mascot. At some point while we were there "Queenie" became pregnant. I remember one day when members of the regiment were on the way up the mountain near Newcastle and we all had to stop so that "Queenie" could have her puppies along the way. I don't know whatever happened to "Queenie", but she was a good friend to many of us.
It was decided that a battalion from the Royal Rifles of Canada (Eastern Quebec) and a battalion from the Winnipeg Grenadiers, would be assigned this task. None of us soldiers were "combat ready", but we were to receive further training when we arrived in Hong Kong.
On August 27, 1941, the Grenadiers were recalled from Jamaica to return to Winnipeg. September 27th, 1941, we embarked at Kingston and arrived in Montreal, Quebec on October 10th, 1941. The regiment then traveled on to Winnipeg. Along with the other Grenadiers, I received 9 days furlough with pay in Winnipeg, from October 11th to October 20th. I remember upon our return to Manitoba that the Winnipeg Grenadiers lost quite a few members who transferred to other regiments. I was assigned to go out onto Portage Avenue in Winnipeg to recruit new members to replace those lost in our regiment.
Upon receiving our marching orders, we left Winnipeg by CPR Troop Train at 0900 hours on October 25th. We arrived in Banff, Alberta at 1500 hours on October 26th, and proceeded to carry out a route march. We left Banff and our regiment finally arrived in Vancouver B.C. on October 27th, 1941, 1400 hours. Later that same day, at 2130 hours, the regiment boarded a New Zealand ship called the Awatea for a three week voyage at sea (sailing list #967). Launched in February, 1936, the Awatea (meaning "Eye of the Dawn") weighed in at 14,000 tons, and was one of the fastest liners in the world. Living conditions on board the Awatea were not the best. With so many of us on board we were required to sleep in extremely close quarters. I understand that some members actually were so displeased with the arrangements that they jumped ship for a short while before being coaxed back on board.
We left Vancouver and arrived in Honolulu, Hawaii on November 2nd, 0900 hours. We departed later that day at 17:30 hours and our next stop was in Manilla, Philippines on November 14th, 0930 hours. We stayed there until later in the day when we again shipped out 1630 hours. On November 16th, 1941, 0930 hours, our regiment finally arrived in the harbour of Kowloon, Hong Kong. It was the last I would see of the Awatea. On November 11th, 1943, while still serving as a troop ship, it was struck by Italian bombers off North Africa and sank while engulfed in flames.
Other Photos
(Click on image for larger view, hover over image for caption)