Hong Kong Before the Battle
Upon our arrival in Hong Kong harbour, we joined up with The Royal Rifles of Canada from Quebec to bring our total complement to 1975 members, along with 2 nursing sisters. Under the command of Brigadier John Lawson (a World War I veteran), "C" Force arrived in Hong Kong to a parade with bagpipes playing. We were there to relieve the British regiment which was returning home. We marched through the streets of Kowloon in full dress, and then marched several miles further to our new home, Sham Shui Po. We were joined by 11,000 Scottish and Indian troops. I was assigned to Hankow Barracks at Sham Shui Po (which ironically would later become my first prison camp).
There were many Indian troops stationed in Hong Kong at the same time, which were from Rajput and Punjabi regiments. We befriended one such Punjabi soldier who used to visit our barracks on regular occasions. This soldier was a gunner with an artillery unit. He was a wonderful chap that we would share coffee and hardtack cookies and biscuits with. He was a wonderful chap. One night, after visiting with us, he left in the dark and was walking down the road to his camp. Many of the roads in that area were mined and few of us were aware that the British had placed land mines along the road that day. The British would leave a coal-oil lamp burning beside each land mine to warn members where they had been laid. Unfortunately, our Punjabi friend was not aware of the recently mined road, and shortly after he left our barracks we heard a tremendous explosion. When we went out to check on his well-being all we could find of him was one thumb. That was certainly a wake-up call for all of us from that point on.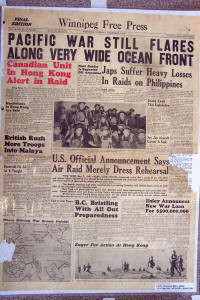 The Hong Kong contingent was told that the Japanese were unready, not well trained, and still located quite some distance away from the island. We were also told that the Japanese could not fight well in the dark. Little did we know that the Japanese had been building airports within 100 kilometers of Hong Kong. Within weeks the hostilities began and we were in the fight of our lives. On December 7th, 1941, the Japanese invasion of Hong Kong started. Little did we know at that time that our equipment ship, the Don Jose, would never reach Hong Kong. When the hostilities began, and Pearl Harbour was attacked, the Don Jose was rerouted to Manila in the Philippines. Eventually, this equipment that was meant for our use was allocated to the Americans for use in the war effort.
On December 6th, 1941, I was ordered to take up battle positions at a location called "Little Hong Kong". I was a member of a three person machine-gun party. The Japanese attacked the mainland first and then the Kowloon area. On December 7th the Japanese began their air assault on the island where I was situated. Around December 8th or 9th my platoon was assigned to a location close to the Repulse Bay Hotel keeping watch out over the harbour. At that time the hotel was home to many British men and women who were seeking refuge from the impending attack by the Japanese. We were equipped with 2 Vickers machine-guns from World War I.
We managed to scrounge some blankets from houses down below which were being destroyed by the British. We used these to sleep on in the dugouts we had excavated. For four days we toughed it while awaiting the arrival of the Japanese. While we were there a Japanese "spotter plane" made several passes over us and dropped several bombs nearby. They narrowly missed hitting John Pugsley's group close to us. After about four days we were ordered by S/Sgt. Frank Breakwell to move out and take everything we could carry with us. We moved inland away from the harbour and made our way toward the Mount Butler area.