CHAPTER SIX - Off to War
In September of 1941, I entered Miss East's grade two class.
We learned to write instead of print, though only in pencil. Not until grade three would we be allowed to use pen and ink. We also learned to mix colours. It was like magic: our flat black paint boxes only contained primary colours, but we learned by dipping our brushes into water and then rubbing them over the cakes of paint that red and yellow make orange, and blue and yellow make green, and red and blue make purple. We all had to bring cotton drawstring bags from home to keep our painting things in — the paint box, a small glass jar for water, a rag for wiping the brush clean, and an apron to wear to keep the paint from getting all over our clothes. Mother made me one out of an old apron of hers. It was white with red and yellow poppies on it. We tied the bags of painting supplies to the iron loops on the sides of our desks.
Miss East taught us a poem about an owl. It went like this:
A wise old owl lived in an oak,
The more he heard, the less he spoke,
The less he spoke, the more he heard.
Why aren't we like that wise old bird?
We recited the poem in unison every morning, after singing O Canada and saying the Lord's Prayer and listening to Miss East read a chapter from Hurlbut's Stories of the Bible. Miss East pinned a big cardboard owl above the blackboard, and he stared at us with his huge yellow eyes as we did our schoolwork. He looked just like Winnie the Pooh's friend Owl, and I wondered if he lived in a tree in The Hundred Acre Wood when he wasn't busy keeping all of us wise.
Because the Grenadiers had been chosen to go to Hong Kong, Daddy returned from Jamaica at the end of September.
We saw very little of him, as he was busy getting ready for his next journey and he seemed a stranger to us after being away for so long.
'Why doesn't Daddy live with us?' I asked Mother.
'He wishes he could, but he has to stay in the barracks with the other men.'
Mother told us that the Grenadiers would be leaving Winnipeg by train for Vancouver on October 25, but where they were going after that was a secret. She talked constantly about Daddy's departure, about how much we would miss him and how long it would be before we saw him again.
'I want to go to the station,' said Barbara. 'I want to see Daddy's train.'
'No,' Mother told her. 'There will be too many people there, and I don't want to lose you in the crowd.'
'I wouldn't get lost,' said Barbara. 'I'd hold onto your hand.
Honest Mummy, I would.'
But Mother was adamant. She said that the scene at the station would be a sad one, and she didn't want us to be upset.
'You can say good-bye to Daddy here.'
'Well, who will look after us while you're gone?' Barbara asked.
'Mrs. Cameron says that you and Roger can play at her house.'
'Oh goody! I can play with Irene's doll house!'
Irene Cameron was in grade three. Her dollhouse was an exact replica of the Lieutenant Governor's home that stood on Kennedy Street next to the Legislative Building. Irene's grandfather had made it for her. He was an architect, and every detail of the house was perfect, right down to the miniature grand piano, and the sliding doors on the pantry cupboards.
'Well, I don't know,' Mother said. 'Irene will be in school, and it's her house. You'll have to ask permission.'
'I will,' said Barbara. 'I'll ask nicely.'
Daddy slept at home on the last night. It was his thirty-ninth birthday, and Mother made his favourite dinner: roast beef with browned potatoes and gravy, parsnips and Brussels sprouts. There was a chocolate cake for dessert, and we helped to blow out the candles. After dinner we all gathered around him in his big easy chair to watch him open his presents. Mother gave him a new watch, he got a carton of cigarettes from Barbara and me and socks from Roger. Then Barbara and Roger sat on his lap and I perched on the footstool with my head against his knee as he read us a chapter from Treasure Island.
'Your mother will have to read you the rest of this book,' he said, 'and when I come home we'll start a new book.'
Little did we know it would be the last evening he'd spend with us for the next four years.
In the morning Mother made a special breakfast, scrambled eggs and bacon, toast and orange marmalade. Then I went off to school, and Mother took Barbara and Roger down the street to the Camerons'. Before we left, Daddy kissed all of us good-bye and gave us each an extra long hug. When he let go of me I could see tears in his eyes, but he stood up straight like the soldier he was, and patted me on the head. I felt a lump rise in my throat, but I swallowed it down. I was a soldier's daughter. I had to be brave, and I didn't want his last memory of me to be one of a girl in tears.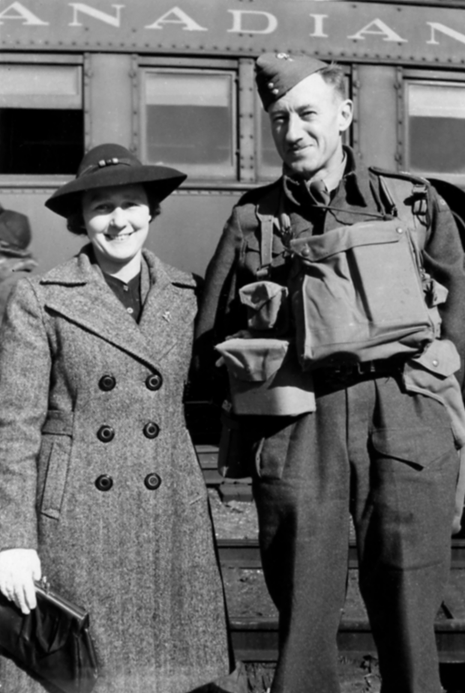 Lucy and Victor Dennis on his departure from Winnipeg
'Be good,' he said to us, 'and take care of your mother. I won't be gone long.'
'See you soon,' I said, waving to him as I closed the door behind me, but I knew in my heart that it wouldn't be very soon.
When I arrived home for lunch Barbara and Roger were there, and Mother was at the stove stirring tomato soup. She was smiling, if a bit stiffly.
'Did you see Daddy leave on the train?' I asked.
'Yes. There were hundreds of people there. We all took pictures of each other.'
'Were you sad?' I asked her.
'A little bit. But he had to go. A soldier has to follow orders.
I only hope he won't be away for too long a time.'
Looking back, I realize that our father did not have to go to Hong Kong. At thirty-nine and as a family man, he could easily have stayed behind and taken a desk job in Winnipeg. However, being the military man that he was, he said he felt honour-bound to do his duty as a soldier, which meant facing the enemy even if he got himself killed. For the rest of his life he spoke with great derision of the men who refused to go overseas, or even to join up. He saw them as cowards who were not loyal to king and country.
A few weeks later, Mother received a letter from Daddy, written on November 1 on board ship.
Lucy Darling,
How are you getting along? Gee, how I miss you all, far more than I did the last time. I'm so glad I was able to have that last handclasp as we were moving out. I was feeling pretty miserable myself, and I'm sure you were feeling the same way.
He wrote about life on the ship, and said they were working very hard.
We are training hard all day long and by 9 o'clock all I want to do is flop in my bunk and sleep.
He also said that he missed us all very much.
How are the youngsters? I hope they are not missing me too much for their own sakes, but Gee! I certainly miss them and I miss you darling more than I can tell you. It wouldn't have been so bad if only we could have had some time together during that last week, would it?
On November 8, he wrote again from the ship, worrying about how Mother was coping without him.
Darling, I've been worried over the storm doors. I know they weren't on when I left and it must be getting pretty cold in Winnipeg now. I do hope you managed to get someone to put them on for you. Also, did you ever manage to get hold of the chimney sweep?
Needless to say, I am thinking of you all continuously and wondering how you are getting along and what you are doing. It is getting close to Barbara's birthday now. I do hope she enjoys it. Are you letting her have a party? Tell her I'll be thinking of her on November 19.
Houses in those days were fitted with heavy wooden storm doors and windows for winter, and screen doors and windows for summer. Once the storm doors and windows were put on in the fall, the house took on a cozy feeling. No matter how cold it got or how many blizzards battered the outside of the house, the inside remained warm.
However our house was three stories tall, so installing these heavy doors and windows was a difficult task. No wonder Daddy was worried, though he needn't have been. Mother was inundated with offers of help from kind neighbours.
'Ewart Morgan is going to put on the storm windows,' Mother wrote in a letter to Daddy, 'and Mr. Hand is putting on the doors for me. I know just how much you want to be here to do these things yourself, dearest, but we must just be patient.'
Ewart Morgan was the principal of Daniel McIntyre High School, and he and his family were very kind to us throughout the war. They just couldn't do enough to make Mother's life somewhat easier. They often invited us to share meals with them, and when Mother told the Morgans that the Japanese censors had stipulated that letters to the prisoners could only be one page long, and that she found it difficult to say everything she wished in such a short space, Mr. Morgan loaned her his typewriter. As it was very heavy, he'd carry it down the street and set it up on our dining room table. Mother was extremely grateful, as she told Daddy in a letter.
Dearest Vic,
It is certainly wonderful to sit down on a Sunday night to write you a letter. We were all invited to the Morgans for dinner today, and Ewart loaned me his typewriter so I could say as much as possible to you on the one sheet of paper allowed us. Ewart is so helpful. He comes in every few days to see if I need anything done.
Our life on the home front went on much as usual. Barbara took weekly dance lessons from Betty Hay (later Betty Farrelly), co-founder of the Winnipeg Ballet. Roger always went along to watch, but I had never been to the dance class because it happened on a school day. However, on November 11, which was a school holiday, Mother took me too. To cheer Daddy up, she wrote to him afterward about the experience.
Today was a school holiday so Margaret came with us to the dancing class, and did she ever love it! But I just have to tell you this howler. I took the three kids into Picardy's for a drink of lime crush after, as they thought they'd like a new kind of drink. Well, Margaret took one sip and said in her high, shrill voice, 'This is like daddy's throat smells when he comes home with beer!'
I'll bet the assembled company pictured you as an old soak, rolling home night after night, eh Dearie? I nearly choked on my drink laughing at her.
A party was planned to celebrate Barbara's fifth birthday on November 19, but when the day came, I woke up covered with blisters.
'Chickenpox!' cried Mother. 'Oh dear, we'll have to call off Barbara's party!'
'It's all your fault, Margaret!' Barbara wailed. 'Just wait till your birthday. I'm going to get measles and mumps!'
Of course both Barbara and Roger also came down with chickenpox. Mother wrote in a letter to my father on December 8 that all was well again.
Margaret went back to school a week ago, and Barbara and Roger are past the worst of the chickenpox now. None of them has been very sick. The worst of it is having to keep them indoors all the time.
Across the Pacific, the Grenadiers had arrived in Hong Kong on Sunday, November 16. It was the lull before the storm for our troops. The Winnipeg Free Press reported that they were given a rousing welcome with bands blaring and diving RAF planes saluting the convoy in the harbour. Much was said about the luxury of the Kowloon barracks where the men were stationed.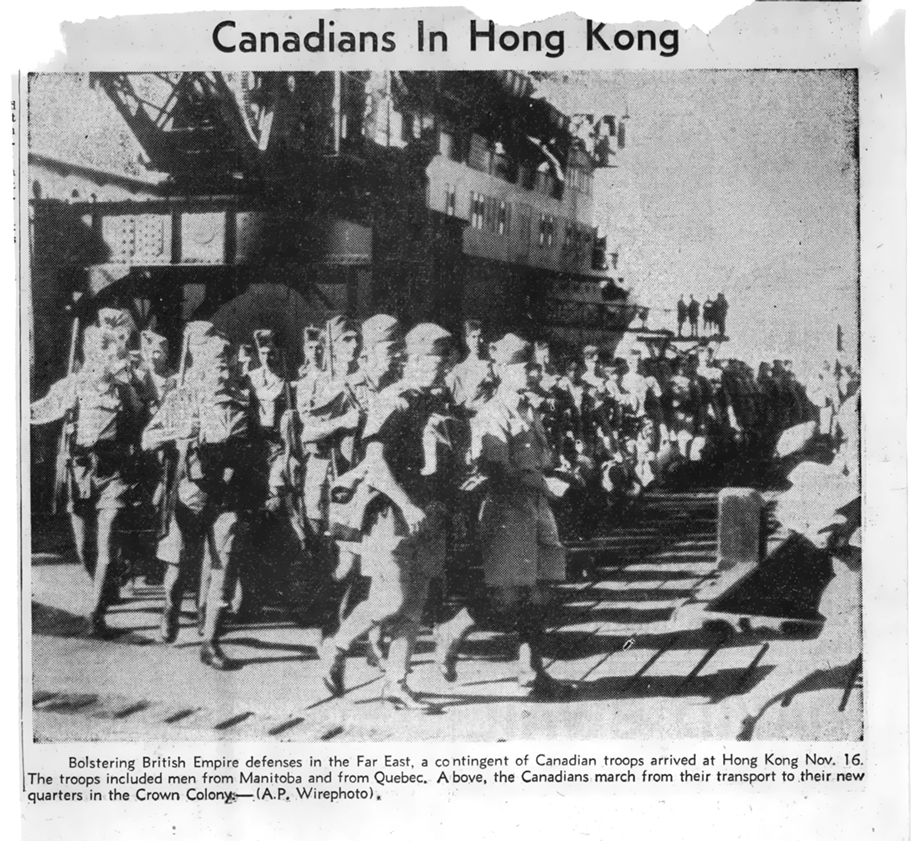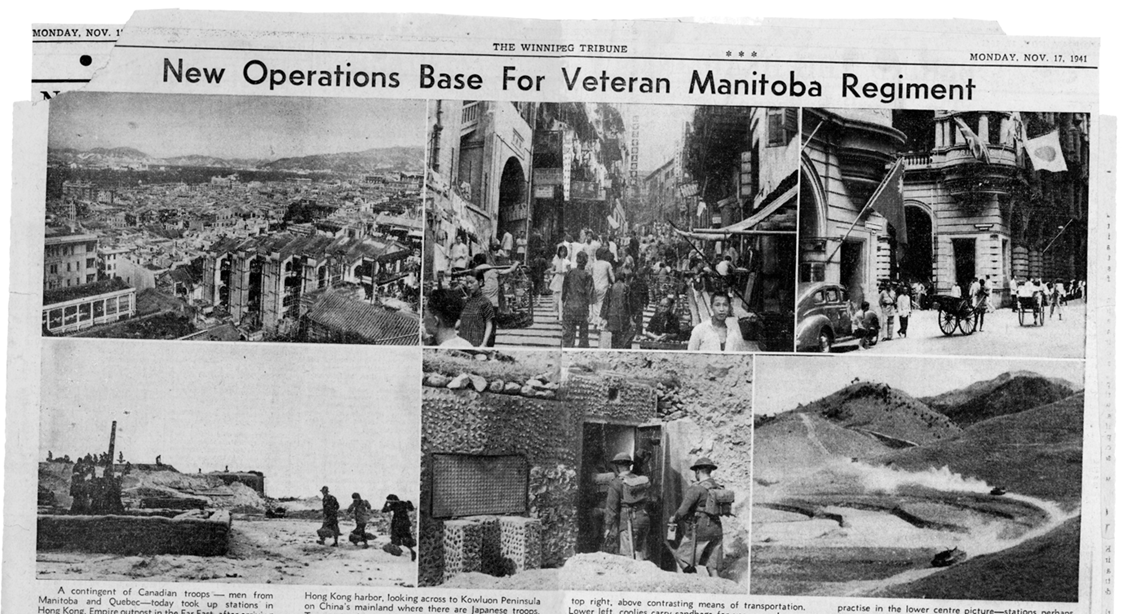 Stories in The Winnipeg Tribune told of the rousing welcome that greeted Canadian troops on their arrival in Hong Kong.
Daddy wrote several letters between November 18 and December 1, describing the officers' mess.
We have a very comfortable mess here, nicely furnished with two fireplaces in it, one of which is now blazing away merrily. I believe our mess dues are going to be rather high so I probably won't be able to afford to go out much.
He also wrote about cocktail parties and invitations to local homes, rickshaw rides, taxis and extremely comfortable trains. He mentioned taking a fifteen-mile cross-country walk with a fellow officer, during which they climbed about 2,000 feet over the hills and down the other side. Little did he know that in less than a week they would be caught up in a devastating battle in those hills, one that they could not possibly win.
On December 7, Japanese bombers attacked Pearl Harbor, and the next day they bombed Hong Kong. Mother sat up late in the evening listening to the radio. The next morning at breakfast she was very quiet.
'I have some bad news,' she said. 'There's war in Hong Kong.'
'That's where Daddy is,' said Barbara. 'Is he in the war?'
'I'm afraid so,' said Mother.
'Will he get hurt?'
'I hope not. But he might.'
At school, Miss East asked the class if anyone knew which place had been bombed on the weekend, and I shyly raised my hand.
'Yes, Margaret?'
'Hong Kong.'
'Yes, I guess it was,' Miss East said, 'but there was a much more important place bombed. Doesn't anyone know?'
Angus McPherson waved his hand in the air.
'Yes, Angus?'
'Pearl Harbor,' he answered, grinning at me.
'That's right, Angus,' beamed Miss East. 'I'm glad that some of you listen to the news!'
My face burned. I was chagrined to think that I had given the wrong answer. But while I knew that Hong Kong had been bombed, and that Daddy might get hurt or even killed, I could never have dreamed of the horror that lay ahead for him and the years of worry and pain that awaited those of us on the home front.
On December 8, Mother wrote a long letter to Daddy.
My Darling Vic,
I know you have been thinking of us with all your heart since yesterday, and I needn't tell you that I have nothing else in mind constantly but a prayer for your safety. The news has been such a shock here — I never dreamed you would be in action so soon, and needless to say dear, if I had even had such a suspicion, I would not have been so selfish as to fill my first letters with my petty feelings of sadness and loneliness.
Please forgive me if I have caused you to worry about me in the face of things far more important.
She went on to tell about all the friends who were rallying around her, including Winnipeg's mayor, John Queen. He had known Mother for many years, as he had been an associate of her father's. Like my grandfather, William Cooper, John Queen had emigrated from Scotland in the early years of the century. John Queen was a cooper by trade, and William Cooper was a carpenter. Both held socialist views, and Cooper conducted classes at a Worker's University on Monday afternoons, influencing many toward the philosophy of British unionism. Queen attended these classes, along with James S. Woodsworth, William Ivens and many other men who became leaders in the Winnipeg General Strike in 1919. During the strike, John Queen had been arrested and charged with sedition, which led to his being jailed for a year.
Despite this, he had served as a member of the provincial legislature before being elected mayor of the city in 1935 and again in 1938.
Mother was also friends with Queen's two daughters, Jean Wise, whose husband Amby was serving with the army in Europe, and Gloria Queen-Hughes, whose husband Wilfred was in Hong Kong with our father. Gloria had also signed up; she was a founding member of the Canadian Women's Army Corps.
Mother wrote to Daddy:
Gloria and Jean and John Queen came over last night, and we listened to the radio until after midnight. All our friends have been phoning today, making sure that I have something to do in the evenings. The Morrisons, the McIntyres, Ruth Holman, Jennie Helston, Mrs. Andrews, the Browns and May Baird all phoned asking me over tonight, but Frieda McIntyre asked first, so I've had to put the others on hold. So don't worry about me, please, Dearest. I will just have to try to convince myself that you are all right — you just have to be!!
Mother was able to go out in the evenings because at that time we had a maid, an eighteen-year-old farm girl named Isabel who had come into the city looking for work. Isabel slept in the attic and did light housework during the day and looked after us when Mother wasn't home. It's a good thing that Mother had this freedom, as it would be a long four years before Daddy came home, and life returned to normal.