CHAPTER SEVENTEEN - Summer 1945
That summer, Aunt Edith invited me to spend a month in Medicine Hat, where we had spent part of the summer of 191.
Mother agreed to let me go there at the beginning of July, all by myself on the train.
'I can't afford a berth in the sleeping car,' Mother said. 'You're not very tall. You can sleep on the seat in the day coach.'
Mother, Barbara and Roger all came to the station to see me off, and they were allowed to come onto the train with me to help me find my seat.
'You think you're so smart to be going by yourself,' said Barbara, 'but we're going to have lots of fun here without you.'
'Well, I'm going to have more fun than you,' I retorted. 'I'll get to sleep on Aunt Edith's porch, and go to the swimming pools, and we're going to spend a week in Banff, so there!'
'Hush,' said Mother. 'You're all going to have a good summer holiday. There's no need to argue about it.'
Barbara stuck out her tongue at me behind Mother's back, but I pretended not to notice. Mother introduced me to the conductor and told him that I would be travelling alone. Two soldiers sitting across the aisle from me said that they were going to Alberta for training, and Mother asked them to make sure I had a safe journey.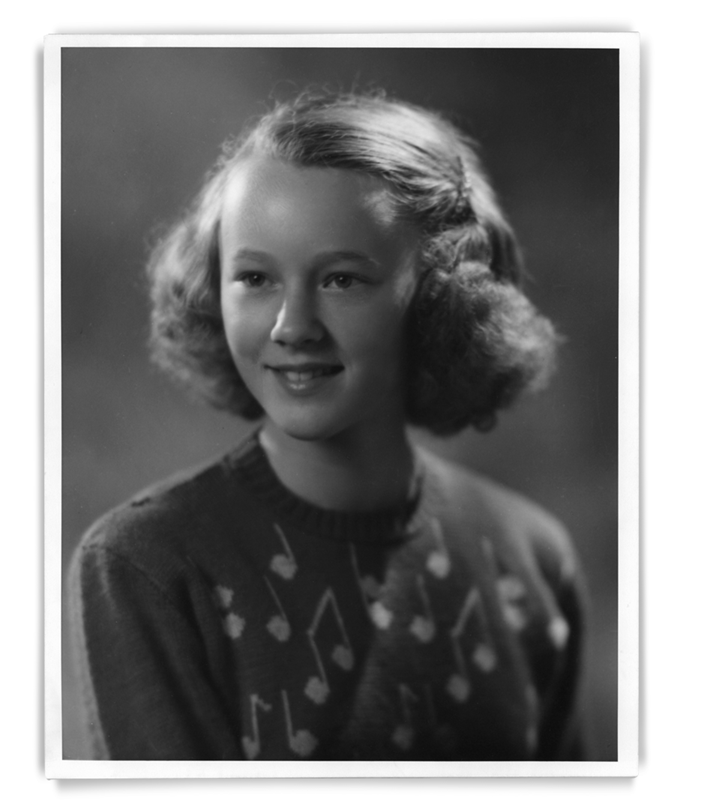 Me at age ten
'This is my daughter Margaret. She's eleven years old,' Mother said. 'She's very independent, but I just want to make sure that she gets to Medicine Hat safely.'
'Don't you worry, Ma'am. We'll be going all the way to Medicine Hat. Your daughter will be in good hands.'
Mother kissed me good-bye and I gave her a hug. I hugged Roger, too. He said he'd miss me, and I told him I'd miss him and would send him lots of letters. Then I thought I'd better give Barbara a hug, too, so her feelings wouldn't be hurt. 'I'll see you all in August,' I said.
As I watched them walk away and get off the train, I felt a bit sad. They stood on the platform, and we waved to each other as the train began to move. Then I couldn't see them any longer, but there were lots of other things to see from the train window, and I soon forgot that I had left my family behind. In no time at all we were chugging along through green fields, and there were cars lined up at railway crossings, and barns and horses and cows, and the conductor in his blue uniform came through the coach to punch our tickets. As this was a Canadian Pacific Railway train, the coaches were painted dark red. When we'd gone to Brockville, and to Victoria Beach, the coaches had been painted green, the colours of the Canadian National Railway, but only the CPR went to Medicine Hat. As my cousin Marion liked to say, 'The CPR's our bread and butter,' for Uncle Fred was a CPR trainman.
It was fun travelling alone on the train. We left Winnipeg in the evening, and the conductor brought me a pillow and blanket.
I slept until dawn, and woke just in time to watch the sun rise over the plains. I was so excited that I wrote to Mother immediately.
Dear Mummy,
I'm okay. It's early in the morning yet but I can't get back to sleep so I'm watching the dawn. My big pencil broke so I'm using the small one. The servicemen are very nice and an airman gave me a chocolate bar. We are somewhere out in the country now and the dawn is beautiful. Everyone around me is very kind and one lady recognized Raggedy Ann. The man behind me opened my Orange Crush. There are no more paper drinking cups, although maybe there are some at the other end of the car. My purse is just fine. We're in a town now. We just pulled in but here we go again. We only stayed a minute there. I can hardy wait until we get into Saskatchewan because I like the name. Well, I think I'll go and freshen up a bit now because Raggedy and I are covered with soot from the train.
Love,
Margaret and Raggedy
Late that afternoon the train arrived in Medicine Hat, and Uncle Fred and Aunt Edith were waiting at the station. I was very tired from the long trip and I didn't feel much like talking, but Aunt Edith chattered away as we drove home in Uncle Fred's car.
'How was the trip? Did you sleep much last night? Did you talk to anybody on the train? Have you brought enough clothes?
How is your mother? And Barbara? And Roger? I hope you don't mind sleeping on the porch tonight — Irvine's home for the weekend and he needs his room. We'll have to stop at the grocery store, as I was busy working at the church and didn't have time to buy anything for supper. It's hot so I think we'll have a cold supper — potato salad and ham slices. Some of the tomatoes in the garden are ripe already so we can have those.'
When we arrived at the house, Aunt Edith showed me to Irvine's room and left me to unpack. 'You can leave your things in here. Irvine won't mind. He's just home for two days, and he won't arrive until after supper tonight.'
I unpacked my suitcase and put my underwear, socks and pajamas in the drawers. I hung my three cotton dresses in the closet. Suddenly I thought about my bedroom at home. I missed Mother and Barbara and Roger. I wouldn't see them for a long time. A lump came into my throat. I mustn't cry, I thought. Aunt Edith would feel badly. I went over to the dresser and stared at myself in the mirror.
'Margaret,' I said to my image, 'you are only here for a few weeks. You're grown up enough to travel on the train by yourself, so you mustn't be a crybaby. You'll see your family again at the end of the month. You're just tired from the trip, and you'll feel better tomorrow.'
I sound just like Mother, I thought. Then I swallowed hard, and went down to the kitchen to help Aunt Edith get supper on the table.
Mother, thinking that I should have my bicycle to ride in Medicine Hat, had arranged for it and my large suitcase to be picked up at home and delivered to the baggage car of the train.
Unfortunately, the stop in Medicine Hat was so brief, and the baggage car was so loaded, that they couldn't get my suitcase or my bicycle out in time. My suitcase was put off at the next stop, but my bicycle went all the way to Calgary. The suitcase came back the next day, but it was a couple of days before the bicycle arrived. I was afraid that I'd never see either my suitcase or my bike again, but Uncle Fred said not to worry. 'These things happen all the time,' he assured me. 'As long as your baggage is properly tagged, it will arrive in due course.'
I knew that it was properly tagged as I'd helped Mother to write the information on the tags. Still, I couldn't help but worry.
I expressed my concern to Mother in a letter on the second day of my holiday.
Dear Mummy,
Did you hear about my baggage? It certainly is lucky that I brought another suitcase, isn't it? My suitcase arrived this morning, but my bicycle isn't here yet.
The bicycle finally arrived two days later, and I was overjoyed to see it again.
I spent five weeks in Medicine Hat. As Aunt Edith and Uncle Fred were very busy with their garden and their lodge and church work, I had to find things to do by myself. Aunt Edith wrote to Mother:
Dear Lucy,
I expect that Margaret is keeping you posted on our news.
She is getting along just fine and seems to be enjoying herself.
She has had to amuse herself most of the time as we have been very busy. We are leaving on Sunday for our week in Banff so I hope the weather stays good and warm.
I loved Uncle Fred, a small, wiry man with twinkling brown eyes and a quiet sense of humour. He loved to tease, but he was soft-spoken, and his teasing was always kindly. He let me use his typewriter, and was very patient as I struggled to learn to type.
I spent many hours writing letters home. Three days after my arrival I wrote this report of my activities to Mother.
Dear Mummy,
Uncle Fred is letting me use his typewriter but I didn't write to anybody because I was just learning and I don't type very well yet. Aunt Edith is at a funeral this afternoon and Marion is at work so Uncle Fred is at home with me. Last night Uncle Fred fixed Marion's bike as she got a nail in the tire.
After that he let me have a ride because my suitcase is here but my bike went to Calgary because the car was so loaded they could not get the bike out in time.
I went downtown with Aunt Edith and Mrs. Nicholson this morning. Do you remember Mrs. Nicholson on the next street, who keeps chickens? Well, she has some baby chicks just two weeks old. They're really cute. Aunt Edith got some toe-less and heel-less sports shoes this morning.
Tonight I am going to the Sunday School picnic in Central Park. Marion has some movie star pictures and she said I could have them. Last night Marion had a party and the girls stayed until midnight but I had to go to bed at nine.
This morning I met Betty Church. She's going to the Sunday School picnic too. We are going to Banff with Betty and her Mom and Dad.
Betty Church was a year older than me, and her mother was a good friend of Aunt Edith's. Betty invited me to go swimming with her the next day in the big outdoor pool downtown, and Aunt Edith said that I could go if I promised to be careful.
'I can swim,' I said. 'I took lessons all last winter at the Y.'
Betty and I rode our bicycles to the swimming pool. The weather was very hot, and it felt so good to splash around in the cool green water, but by the time I'd ridden home, I was dripping with perspiration again. Betty and I went to the pool most afternoons, but if the day was extremely hot, we'd go downtown to see a movie in one of the air-conditioned theatres. Betty was pretty, with long, dark hair and brown eyes, and she had freckles on her face. Sometimes I went to her house for lunch or supper, and once I even stayed overnight.
I enjoyed exploring the neighbourhood on my bicycle. A girl named Eleanor Aiken lived across the street from Aunt Edith.
She was eighteen, a few years younger than Marion, who was then twenty-one and engaged to be married to one of the airmen who had gathered around the piano to sing war songs the last time we were in Medicine Hat. His name was Alexander Shand, but everyone called him Sandy. He was overseas, but Marion had many girl friends and a busy social life, so she didn't have much time to spend with me.
Like Marion, Eleanor worked downtown during the day, but sometimes in the evenings or on weekends she'd take me for long bike rides to places that I wouldn't go to on my own. One night, she decided to take me for a ride down into a coulee a few blocks from home, but unfortunately she didn't warn me ahead of time that we were coming to the steep gravel hill that led to the coulee.
We turned a corner and suddenly my bike was skidding out of control on the steep slope. Screaming with fear, I crashed, rolling down the hill with my bike on top of me. Eleanor, very upset, picked me up and brushed me off, but my knees and elbows were bleeding profusely. We walked the bike up the hill, and she took me home and with great embarrassment told Uncle Fred and Aunt Edith what had happened.
'I didn't think to warn Margaret,' she said. 'I've ridden down that hill so many times, I never thought it was dangerous. But I guess in Winnipeg there are no hills, so Margaret wouldn't know what to do.'
'Well, accidents happen,' Aunt Edith said. 'It's kind of you to spend time with Margaret, so you mustn't feel badly.'
Uncle Fred got a basin of warm water and a washcloth and very patiently washed all the gravel from my wounds. It stung, but he was so gentle that I didn't cry out. Then he painted the sores with Mercurochrome and stuck band-aids over them. I still have a scar on my left knee to remind me of that fall down the coulee hill so many years ago. After that, Eleanor and I only rode on routes that she considered safe.
Aunt Edith had promised me that we would go to Banff when Uncle Fred and Marion had their holidays. I was very excited about this, as I remembered going to Banff when I was seven.
'Now that I'm eleven I can maybe climb a mountain,' I said.
But Aunt Edith said that she had no intention of climbing any mountains and that I couldn't go by myself.
'It's too dangerous,' she said. 'There are bears on the mountains. But you can go swimming in the Hot Springs pool.'
Just before we left for Banff I wrote to Mother.
Dear Mummy,
We are going to Banff on Sunday. Please write to me there.
Aunt Edith is having her hair done this morning. I stay in bed here until ten o'clock in the morning and I go to bed at ten o'clock at night.
I go swimming in the deep end now and I let go of the edge and I didn't drown. I go swimming with Betty Church.
She is a year older than me and she's a really good swimmer.
Betty and her Mother and Daddy are coming to Banff with us and Betty and I are going to sleep together.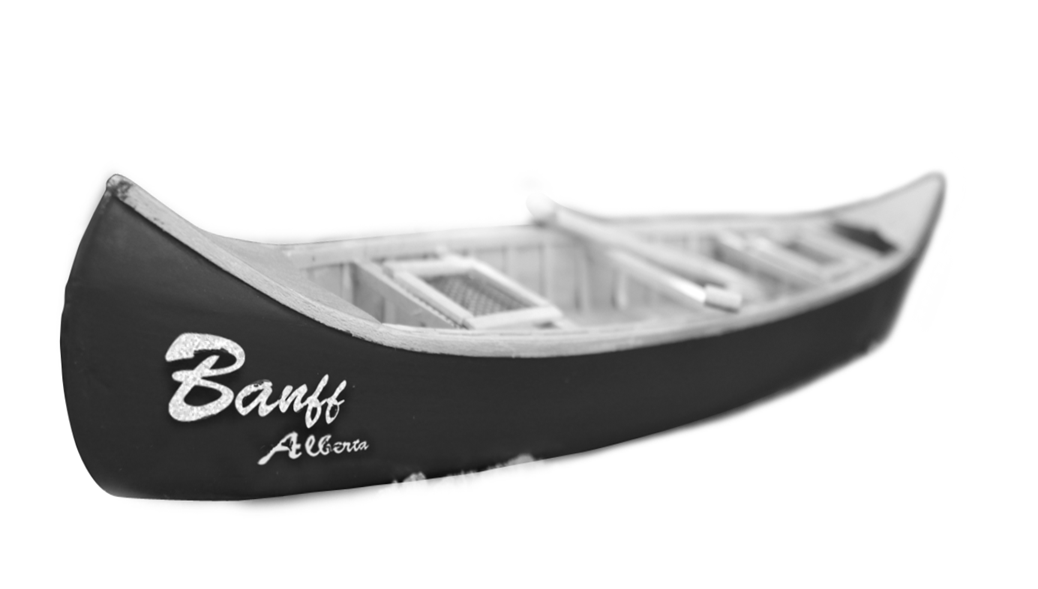 We went to Banff by train, as Uncle Fred, being a CPR employee, had a pass. The train trip just took a few hours, but it was dark when we got there so I couldn't see any mountains until the next day. The weather was mostly cool and cloudy that week, but we had a good time anyway. We stayed in a boarding house right across the road from Cascade Mountain, and had the entire upstairs to ourselves. There were two bedrooms, a living room with a pullout couch, and a kitchen and a bathroom. Betty and I slept in a double bed behind a curtain in the living room downstairs. Marion slept on the pullout bed, and Mr. and Mrs. Church and Aunt Edith and Uncle Fred each had one of the bedrooms.
The Churches liked to play gin rummy in the evenings and on rainy afternoons, and they taught me how to play, too. We spent many hours at the kitchen table playing cards.
Betty and I loved the shops with all their souvenirs. There were felt pennants, birch bark canoes, autograph books and photo albums, picture frames, glasses, mugs and ashtrays, all saying BANFF ALBERTA. I bought a pennant, a birch bark canoe and an autograph album to take home.
We went swimming in the Cascade Pool, and in the Cave and Basin Hot Springs Pool, and walked through the town site and the park on the main street. I never grew tired of gazing at the majestic mountains that were all around us. I could see people, like tiny ants, walking near the tops of the mountains, and I imagined that I could see bears hiding behind the trees. One afternoon, when we were all supposed to be having 'rest time', I sneaked out and walked across the road and climbed a few steps up Cascade Mountain. I thought I might go halfway up, but then began to wonder what would happen if I met a bear, and I thought Aunt Edith would be cross if she knew that I was out by myself on the mountain, so after about five minutes I turned around and went back to the house.
When I got back to Medicine Hat, I wrote to tell Mother all about the adventures I'd had.
Dear Mummy,
We had a really good time in Banff. There was a mountain right across the street from our boarding house. I left my toothbrush in Medicine Hat and the cheapest one I could find in Banff was in a glass case and it cost 25 cents. Uncle Fred gave Marion $10.00 and me $2.00, so I had seven dollars.
Now I have $6.75. We went to the Hot Springs pool and I swam away from the edge in the deep end. Betty Church and I have pajamas just the same only hers are pink and mine are blue.
It is raining today. My yellow sweater and my suit jacket are really lovely for this cool weather. I am keeping as warm as I can because I don't want a cold.
Mother had given me five dollars before I left home, and had stressed that I should spend some money on the people who were taking care of me during my holiday.
'Considerate guests always buy something for their hosts,' she'd said, and wrote that she was concerned that I seemed to be holding on to my money. I wrote back to reassure her that I was indeed spending money, but it does seem that I was something of a tightwad. I found it difficult, for everyone seemed to want to treat me.
Dear Mummy,
I got your letter and you needn't worry about my money because I spent $2.00 in Banff. Betty is staying in Calgary for a while and I don't know if she'll be back before I leave, but if she is, I'll treat her. Marion is going to take me to the fair that is on here. They have a merry-go-round and a roller coaster and a Ferris wheel.
I went downtown this morning and bought a bottle of glue and a package of gum. I went swimming yesterday at the outdoor pool. Last night I went to the show with Aunt Edith and we saw Shirley Temple and Ginger Rogers in I'll be Seeing You. We also saw an Andy Panda cartoon.
I was only supposed to stay in Medicine Hat for four weeks, but I was having such a good time that Aunt Edith asked me to stay for another week.
'It's strange,' I told her. 'When I first arrived, I was homesick; I thought that four weeks would be such a long time. But I talked to myself the first day and said that I was going to have a good time, and the days have just gone by so fast. It's really been fun.'
'Well, it's been fun having you here,' Aunt Edith said. 'Marion is all grown up now. It's nice to have a child around again.'
I'm not a child, I thought to myself, but didn't say anything. I felt very grown up, travelling by myself and being allowed to stay up late and go to movies and swim in the deep end of the pool. I was so busy doing all these things that I forgot all about writing home for two whole weeks. Mother wrote to Aunt Edith to ask if I was all right.
'Margaret,' said Aunt Edith, 'I had a letter from your mother today and she says you haven't written to her lately. I think you'd better drop her a line right away.'
August 5
Dear Mummy,
I will be home in two days now. I'm honestly sorry about not writing to you the past two weeks but there was nothing new to say. Last night Aunt Edith and Uncle Fred and I went to see Diamond Horseshoe. That's the first time I've seen Betty Grable in a show. Last week we saw Irish Eyes are Smiling with June Haver. She is very pretty but I like Betty Grable better. Both those shows are in technicolour.
Mrs. Nicholson's baby chicks are all grown up now. I have a lovely surprise for the whole family. Uncle Fred made a birdhouse in his workshop and I am bringing it home.
The night before I left Medicine Hat, Marion washed my hair and did it up in curling rags. I kept these in place all night long, and in the morning I had beautiful curly hair, just like a grown-up lady. Marion combed it out before we left for the station.
'I hope the curls last until you get home,' she said.
'They will,' I said, and I was very careful on the train not to mess my lovely hairdo.
Before the train left Medicine Hat, Uncle Fred introduced me to the dining car steward. Aunt Edith had packed me sandwiches and cookies for lunch, but the steward came and took me to the dining car for breakfast and dinner, after all the other passengers had finished eating. I ate leftovers with the dining car staff, and recalled eating in the dining car on our trip to Brockville when I was seven.
Everything seemed very strange when I arrived back in Winnipeg. Barbara and Roger seemed so childish, and Mother appeared more bossy than usual. Aunt Edith had left me pretty well to myself, and given me a lot of freedom. I was going into grade six that fall, I'd gone on a train trip all by myself, and I felt that I was no longer a child. I told Daddy this in a letter, written just after school started, when he was on his way home from the war.
Dear Daddy,
I hope you are well. I still belong to the library. I have Miss Hallen for my teacher this year. Just think! This is my last year at Grosvenor School. Next year I'll go to Robert H. Smith. I am growing up quickly.
I have the attic for my bedroom now. I moved up there three weeks ago. Mummy made me curtains for it and I painted that big bookcase white. I have a table up there. It is very nice and I hold my club up there every week. It is the Dorchester Activity Club, and I have seven girls counting myself. I hold it every Tuesday after school.
Though I was becoming more independent, I nevertheless felt that I needed my parents, and I did look forward to the day when Daddy would be home and our family would be complete again.