CHAPTER SIXTEEN - VE Day
During the spring of 1945, there had been many news reports that the war in Europe was coming to an end, and on the morning of Monday, May 7, just as Miss Ormond was taking the roll call, the principal, Miss Hallen, appeared at the classroom door.
'Girls and boys, I have important news,' she announced. 'The war in Europe is over, and school is dismissed for the rest of the day. You may all go home now!'
Highly excited, we raced each other down Guelph Street and along Dorchester Avenue to our house. Mother shut off the vacuum cleaner as the three of us burst through the door all at once.
'What's happened? Why are you home?' she asked.
'Don't you know? The war is over!'
'I haven't had the radio on since you left for school,' she said.
'We've all been expecting this, but there have been several false rumors. Are you certain?'
'Miss Hallen said so,' I answered.
'Well, she wouldn't have sent you all home if she weren't sure.
Hurrah! This is the day we've been waiting for! Now I want you to treat all the children on the street to ice cream cones at Baird's Drug Store.' She pressed a dollar bill into my hand.
We ran from door to door to collect all our friends, and we walked down Grosvenor Avenue toward Stafford, the older kids holding the hands of their younger brothers and sisters. There was a feel of winter in the air, with a cold wind and occasional snow flurries, but the weather did nothing to dampen the spirits of all those who had waited so long for this day. Newsboys were standing on the street corners calling ' Extra! Extra! War is over! Read all about it here!'
The streets were alive with people, and everyone was smiling and laughing. They all said how happy they were for our family.
'The war in Japan will soon be over now,' they said, 'and your father will come home.'
The soda fountain in Baird's was crowded with people buying treats. Mr. Baird wouldn't take our money.
'Your mother's been a good customer,' he said, 'and this is a special day. The treats are on me today.'
We made our way home, licking our cones and chattering about our unexpected holiday from school.
'This afternoon,' said Josephine, 'I'm going to ask my father to drive us downtown. I want to see the celebrations. Maybe you and Barbara can come with us, and Roger too.'
Mother was kept busy answering the phone for the rest of the day as all her friends called to share the exciting news. After lunch, Mr. Morgan piled the three of us into his car along with his own family — Mrs. Morgan, Josephine and her two sisters, Janie Merle and Lorna, who were much older than we were.
There were five of us in the back seat and three in the front. Full of excitement, we drove downtown to join the throngs of Winnipeggers who were loudly celebrating. The going was slow, as the streets were jammed with cars all honking their horns. Streamers fluttered from the windows of the buildings, and hundreds of people crowded the sidewalks, all waving flags and cheering.
Strangers hugged each other, and people climbed the lampposts and thronged the streets. There were so many of them and they were so closely packed together that traffic came almost to a standstill. People were jumping on the running boards of the slowly moving cars to shake hands with the passengers through the open windows. It took us hours just to drive east down Portage Avenue, then south on Main Street to Broadway, and west on Broadway to Osborne.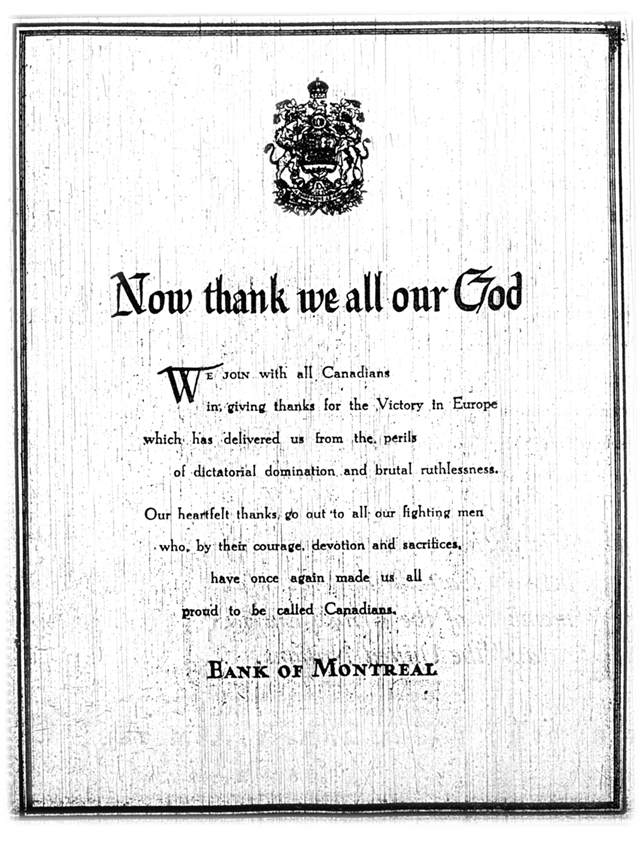 At war's end, Victorian attitudes or religious observance stil dominated in Canada, as seen in this ad by the Bank of Montreal. Societal change was quick to come, however, in the post-war decades.
Hundreds of people mingled on the grounds of the Legislative Buildings, where a mass service of thanksgiving was held at three o'clock. Hymns were sung, The Last Post was played by a bugler, and a minute of silence was observed. Although the people were filled with jubilation, they all reverently bowed their heads to remember the many soldiers, sailors and airmen who had perished in the war and would not be coming home. Indeed, the tenor of the times was one of religious observance. Both Eaton's and The Bay made reference to God in their daily newspaper ads. 'Thank God for victory in Europe. May worldwide peace follow and be long enduring. Store closed Tuesday' read The Bay's full-page ad.
Eaton's ad, also a full page, quoted from Psalm 27: 'And now shall my head be lifted up above mine enemies round about me. I will sing praises unto the Lord.'
The Province of Manitoba quoted from The Lord's Prayer:
'Thy will be done.' And the Bank of Montreal inserted an ad in both papers that said, 'Now thank we all our God.'
The following day, May 8, was officially declared VE day.
All businesses were closed that day, but the people flocked to the churches, all of which held special services of thanksgiving and remembrance.
On the way home that day, Mr. Morgan offered us a special treat. He stopped in front of the Dutch Maid Ice Cream store on Osborne Street. This was one of our favourite places, but we only got to go there on very special occasions. The Dutch Maid had every flavour of ice cream imaginable, and special waffle cones that tasted like homemade cookies.
'I'm taking orders for cones,' Mr. Morgan said. 'What flavour would you like?'
I asked for my favourite, lime sherbet. The others chose licorice or chocolate, except for seventeen-year-old Lorna Morgan, who asked for rum and butter. This shocked her mother, who was a member of the Women's Christian Temperance Union, and a strict teetotaler.
'Oh Lorna,' she said. 'I don't want you to get the taste of rum in your mouth!'
'I don't think it will hurt her,' Mr. Morgan said. 'It's only imitation rum, and it's not very strong.' So Lorna got her rum and butter ice cream cone to celebrate the end of the war in Europe.
About two weeks later, on May 23, 195, to celebrate the end of the war in Europe, a special Order of Service was held in every Manitoba school. This was written by the provincial Department of Education and was entitled 'A Programme of Thanksgiving, Remembrance and Rededication for School and Community'.
It included hymns, prayers, Bible readings, and quotations from world leaders and it ended with the singing of O Canada, and God Save the King, as well as The Lord's Prayer. The printed program was very colourful. On the front cover were photos of King George and Queen Elizabeth, backed by the Union Jack and the Red Ensign of Canada. Inside, on the first page of my copy, was a form that read:
PRESENTED TO
MARGARET DENNIS
GROSVENOR SCHOOL
On the occasion of the public celebration of the victory of the United Nations in Europe on Empire Day, the 23rd of May, 1945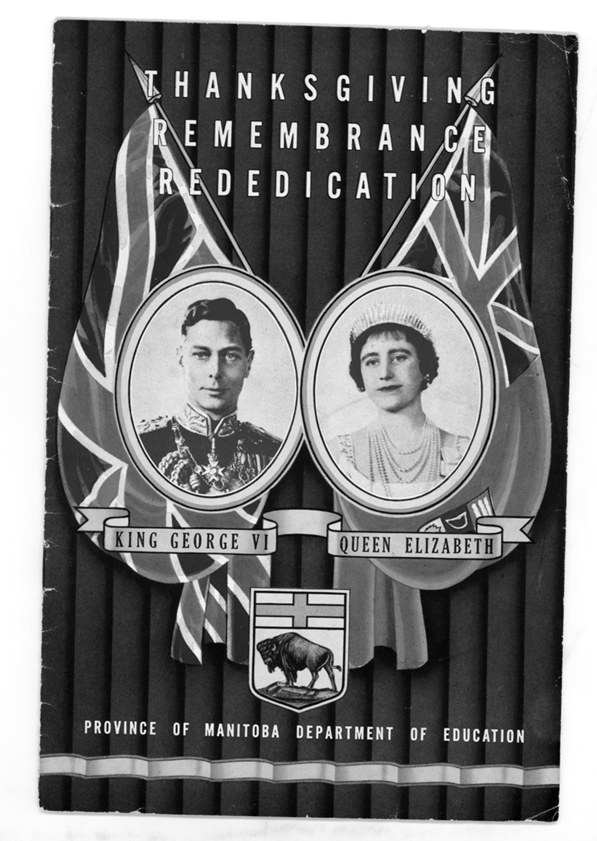 King George VI and Queen Elizabeth decorated the program for the thanksgiving service held in every Manitoba school.
Every pupil in the province of Manitoba got a copy to keep, and Miss Ormond had written in each of our names and the name of our school.
Barbara, Roger and I were particularly excited, for on the third page were three photographs, one each of a sailor, a soldier and an airman who had distinguished themselves in the war. The sailor was known to us as Jimmy Plomer, who had worked with our father at the Bank of Montreal and been the best man at our parents' wedding in 1932.
He was known to the rest of the world as Lieutenant Commander James Plomer, DSC, the commander of HMS Sunflower, which had succeeded in sinking two German submarines. Jimmy had been twice decorated for his efforts.
I'm sure that school celebration must have been the happiest occasion of Miss Hallen's life. Her beloved Allies had been victorious, and she went to no end of trouble to impress on us the importance of this. Grosvenor School had no gymnasium, so assemblies were held in the main floor hall. All the classes lined up side by side, and Miss Hallen asked the caretaker to move the piano out into the hall. She pounded out the hymns in her inimitable style, and we sang along with great fervour, All People That on Earth Do Dwell, O God of Bethel, O Canada and God Save the King.
While this was all very uplifting, as I walked home from school that day I couldn't help but think that for our family, the war wasn't over yet. Daddy was still in prison in Hong Kong. I said a special prayer for him.
'God,' I asked, 'if you can end the war in Europe, why can't you end the war in Hong Kong? I want my Daddy to come home.'
God didn't say anything, but a couple of months later my prayer was answered.