VJ Day - 75th Anniversary Events
Jim Trick, Editor
Our theme for this edition is a retrospective of the various commemorative events that took place across Canada on August 15. Our President, Mike Babin, asked that we all commemorate this significant day by visiting a local cenotaph, veterans' section of a cemetery, or take part in other activities.
We have been overwhelmed with photos and, due to space limitations we've had to limit those included in this newsletter. There are more photos on our Facebook page and in our Photo Gallery along with write-ups in the Region Reports in this issue.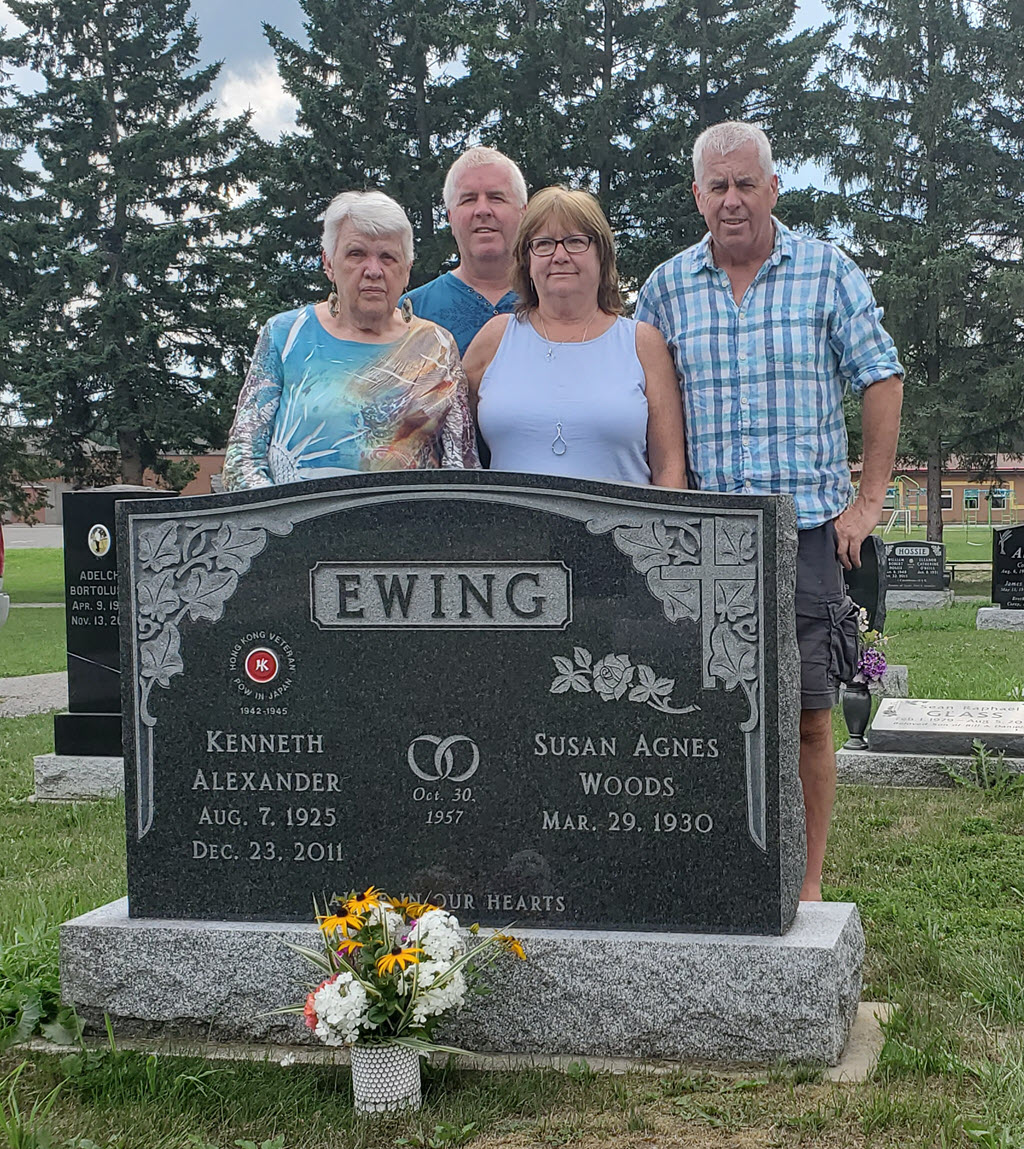 Left to right. Back row - Tom Ewing, Steve Ewing - sons, Front row - Susan Ewing - widow, Marilyn Ewing - daughter in law and Tom's wife.
Below is a small sampling of the photos and comments we've received from our members marking VJ Day. Austen Cambon's narrative about his experience at the Oakville Cenotaph is especially compelling and appropriate as he responds to questions regarding his family's service and experiences.
In one of many instances, the Ewing family gathered on this day to remember not only Ken Ewing, but all Hong Kong veterans.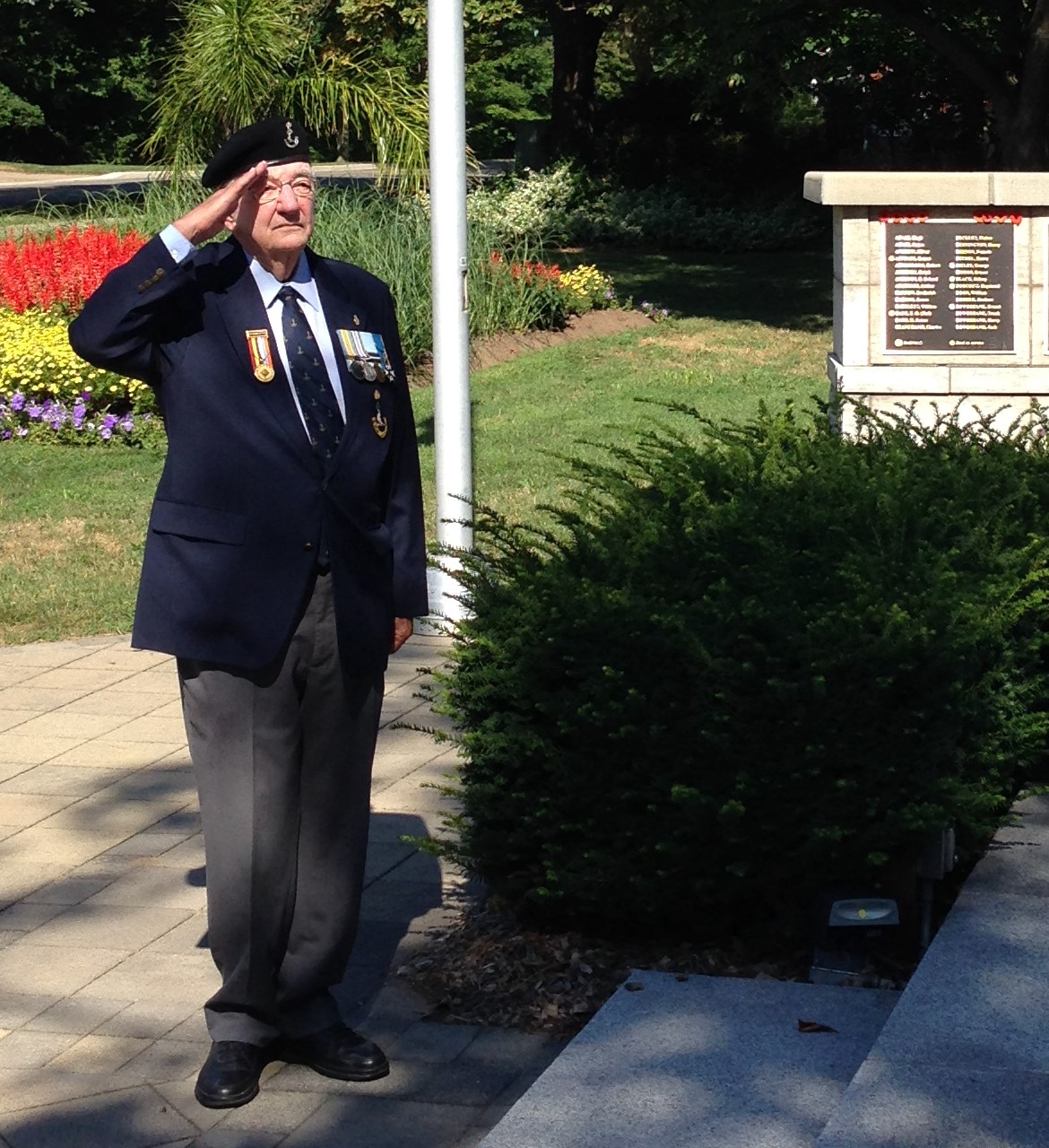 Austen E. Cambon, Lieut. (Ret'd),3RCHA, Divisional Artillery
1st Commonwealth Division, United Nations Force, Korea
Brother of the late DR. KEN CAMBON, RRC. Quebec
I arrived at the Oakville Cenotaph early to take photos of the flags flying in the wind on a beautiful sunny morning. My purpose was to commemorate the 75th Anniversary of VJ Day, the end of World War II, and "Liberation Day", the most special day of all for the survivors of the Battle of Hong Kong. They had spent just over 44 months in horrific conditions in Japanese POW camps in Hong Kong and in Japan. This day continues to be commemorated every year by the survivors and by the families of all those brave Canadians who fought in the Battle of Hong Kong in December,1941, including my late brother, Ken.
I sensed that I might be alone at this Cenotaph on this so very important day in Canada's military history, and I was, until Amanda came walking by and saw me taking photos. She asked if she could help. This delightful young lady not only very willingly took the photos I wanted but listened patiently while I told her the reasons for my being there that day.
Amanda admitted to not knowing enough about the various wars I spoke about. She seemed to be genuinely interested in my family's service to our country. She had to leave but said that she hoped that I would still be at the Cenotaph later on so that she could bring her children to meet me.
I stayed and she came back with her husband and their lovely daughters, aged 11 and 14. The youngest child asked me why there had to be wars. I did my best to explain why. She hopes to become a Veterinarian. I have no doubt that she will achieve her goal.
I feel very honoured to have met this fine young family whose Mom wanted them to meet me, an old soldier.
Perhaps they are typical of so many such families these days, with the parents working from home, for now, but with uncertain futures as to employment, and with children heading back to school and potentially into harm's way, all because of the Pandemic. As we pass the torch in these troubled times my meeting Amanda and her family encourages me to believe it will be held high and in strong hands.
Good luck to them.
(Photo courtesy of Amanda)