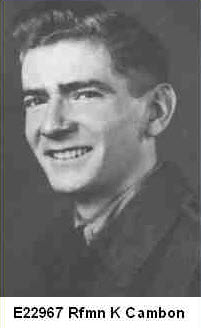 General Information

Rank:
First Name:
Second Name:
Rifleman
Kenneth
From:
Enlistment Region:
Date of Birth (y-m-d):
Quebec QC
Eastern Quebec
1923-07-29
Appointment:
Company:
Platoon:
C
14 Plt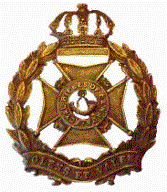 Transportation - Home Base to Hong Kong
Members of 'C' Force from the East travelled across Canada by CNR troop train, picking up reinforcements enroute. Stops included Valcartier, Montreal, Ottawa, Armstrong ON, Capreol ON, Winnipeg, Melville SK, Saskatoon, Edmonton, Jasper, and Vancouver, arriving in Vancouver on Oct 27 at 0800 hrs.
The Winnipeg Grenadiers and the local soldiers that were with Brigade Headquarters from Winnipeg to BC travelled on a CPR train to Vancouver.
All members embarked from Vancouver on the ships AWATEA and PRINCE ROBERT. AWATEA was a New Zealand Liner and the PRINCE ROBERT was a converted cruiser. "C" Company of the Rifles was assigned to the PRINCE ROBERT, everyone else boarded the AWATEA. The ships sailed from Vancouver on Oct 27th and arrived in Hong Kong on November 16th, having made brief stops enroute at Honolulu and Manila.
Equipment earmarked for 'C' Force use was loaded on the ship DON JOSE, but would never reach Hong Kong as it was rerouted to Manila when hostilities commenced.
On arrival, all troops were quartered at Nanking Barracks, Sham Shui Po Camp, in Kowloon.
---
Battle Information
Wounded Information
No wounds recorded.
Hospital Information
No record of hospital visits found.
POW Camps
| Camp ID | Camp Name | Location | Company | Type of Work | Reference | Arrive | Depart |
| --- | --- | --- | --- | --- | --- | --- | --- |
| HK-SM-01 | Stanley | Fort Stanley, Hong Kong Island | | | 20, 31, 33 | Capture | 41 Dec 30 |
| HK-NP-01 | North Point | North Point, Hong Kong Island | | | | 41 Dec 30 | 42 Sep 26 |
| HK-SA-02 | Shamshuipo | Kowloon, Hong Kong | | | | 42 Sep 26 | 43 Aug 15 |
| JP-To-5B | Niigata-Rinko | Niigata-ken, Nakakambara-gun, Ogata-mura, Japan | Marutsu, Rinko Coal, Shintetsu | Stevedore labor at port of Niigata (Marutsu), primarily foodstuffs; mining coal (Rinko Coal ) and labor at a foundry (Shintetsu) | 4, 5, 34 | 43 Sep 03 | 45 Sep 05 |
Transport to Japan
| Draft Number | Name of Ship | Departure Date | Arrival Date | Arrival Port | Comments | Reference |
| --- | --- | --- | --- | --- | --- | --- |
| XD4B | Manryu Maru | 43 Aug 15 | 43 Sep 01 | Osaka, Japan | Brief stopover in Taihoku (Taipei), Formosa (Taiwan); then 2 day stopover at northern point for stool tests | Tony Banham |
Transportation: SE Asia to Home
Via the U.S.S. OZARK
Read more details of the trip home in Ken's account.
Post-war Photo
No information found.
Death and Cemetery Information
| Date of Death (y-m-d) | Cause of Death | Death Class | Death Ref |
| --- | --- | --- | --- |
| 2007-02-25 | | Post War | |
| Cemetery Location | Cemetery | Grave Number | Gravestone Marker |
| | | | |
Gravestone Image
No information found.
Obituary / Life Story
CAMBON Kenneth George M.D., C.M. Professor Emeritus, University of British Columbia After a brave seven-year struggle with dementia and ill health, Kenneth George Cambon died peacefully surrounded by his family on February 25th, 2007 at 11:45 am. Ken was born in Quebec City on July 29th, 1923, the son of George and Lucy (Duffield) Cambon. After graduating from Commissioner's High School in 1939, Ken joined the Royal Rifles of Canada, ostensibly to flee his job at a soda fountain where two broken coffee carafes were about to cost him a week's wages. His training as a private in the army was spent in Valcartier, Quebec, in Sussex, New Brunswick and in Gander, Newfoundland. Towards the end of the 1941, having been initially trained to fight on the snowy slopes of Finland, the Royal Rifles were sent to semi-tropical Hong Kong to defend the then British colony. Ken and his fellow soldiers endured fierce fighting against Japanese troops during the battle of Hong Kong until the Canadian, British and Hong Kong Volunteer(s) regiments were forced to surrender. Ken was taken prisoner by the Imperial Japanese Army on Christmas Day, 1941 and suffered much hardship for the next 44 months as a prisoner of war in Hong Kong and in Niigata, Japan. In 1990, after revisiting Japan for the first time, Ken published "Guest of Hirohito", a memoir about his wartime experience that chronicled the brutal treatment of POWs, but also revealed Ken's compassion, his dry humour, his determination to survive and, in the end, a generous capacity for forgiveness. After the war, Ken was able to attend McGill University with the help of the Department of Veteran Affairs and was accepted into McGill's medical school in 1947. Here his eyes caught those of Eileen Sinclair Nason, who became his wife and best friend in 1949, a marriage that spanned over 56 years. In 1951 they were the first couple to marry while medical students and to graduate together. Ken wrote in his book that "it is to Eileen that I owe whatever success I have attained." Ken's and Eileen's first job as physicians was to work as medical officers for Alcan at the Demerara Bauxite Company in British Guiana (Guyana), where they worked for two years. Following a year's postgraduate training in England, Ken and Eileen completed their specialty training at the University of Texas in Galveston. In 1958, Ken and Eileen moved to Vancouver and established practices in their respective fields, otolaryngology and ophthalmology. Ken was particularly active in the Diagnostic Clinic at Children's Hospital where he supervised two clinics a week on his own time for children with hearing problems. He was a popular teacher in the Ear, Nose and Throat Department, and Ken's patients appreciated him not only for his skill as an ENT doctor, but for his kindness and willingness to listen as well. An avid winemaker, Ken and Eileen bought land on the Sunshine Coast in 1965 where Ken began growing his own grapes. His wine became known far and wide if not for its delicate palate then certainly for the terrific headaches that followed a night's revelry. Ken spent as much time as he could on the property he called "La Querencia" and loved gathering with friends and neighbours at the sauna on the beach, where debates about all the problems of the world carried on long into the night, punctuated by dips in the sea. Another of Ken's greatest pleasures in life was learning to play tennis, which he took up at the age 50. In keeping with his boundless enthusiasm for all new projects, Ken never gave up, albeit without success, in trying to convince the rest of his family to join him on the courts. Ken led a full life, blessed with family, good friends, adoring dogs, countless journeys and an irrepressible sense of fun. It was, above all, a life driven by the hope and promise of each new day. We like to think that Ken is up there somewhere, with his dogs by his side, drinking wine with the many treasured friends who predeceased him. Ken's passing is mourned by his loving wife, Dr. Eileen Cambon, daughters Noreen Cambon and Marie (Randy) Cambon, granddaughter Sybrand (Jim) Kamermans, and grandson Harrison Kamermans. Ken is survived by his sisters Margery (Bunny) Quail, Noreen Isabel Cambon and brother Austen Cambon as well as by many beloved friends. The family wishes to thank Ken's doctors, Dr. Steve Roberts, Dr. Richard Thomas, Dr. Gayatri M. Sreenivasan, and Dr. Kenneth Madden. The family also wants to extend a special thanks to Ken's caregivers: Sandra, Marcial, Janice, Myra and in particular, Ken's primary caregiver and friend, Kenneth Paul Schonberger, who cared for Ken from January, 2004 to the end. Thanks as well to the nurses and staff at South Granville Park Lodge where Ken spent the last 11 months of his life. The family would also like to thank all their friends who gave so much of their love and support during Ken's illness. In lieu of flowers, please make a contribution to a children's charity of your choice. No funeral by Ken's request of many years. Published in the Vancouver Sun from 3/3/2007 - 3/5/2007.
Links
"Guest of Hirohito" by Ken Cambon
General Comments

E22967 Kenneth George Cambon - MARRIAGE: June 1949 (Jun 1949) - Canada. PARENTS: George Cambon, Lucy Duffield.
---
End of Report.
Report generated: 26 Sep 2020.
---
Additional Notes
(These will not be visible on the printed copy)
Service numbers for officers are locally generated for reporting only. During World War II officers were not allocated service numbers until 1945.
'C' Force soldiers who died overseas are memorialized in the Second World War Book of Remembrance and the Canadian Virtual War Memorial, both sponsored by Veterans Affairs Canada. Please use the search utility at VAC to assist you.
Some birthdates and deathdates display as follows: 1918-01-01. In general, this indicates that we know the year but not the month or day.
Our POW camp links along with our References link (near the bottom of the 'C' Force home page) are designed to give you a starting point for your research. There were many camps with many name changes. The best resource for all POW camps in Japan is the Roger Mansell Center for Research site.
In most cases the rank displayed was the rank held before hostilities. Some veterans were promoted at some point prior to eventual post-war release from the army back in Canada. When notified of these changes we'll update the individual's record.
Images displayed on the web page are small, but in many cases the actual image is larger. Hover over any image and you will see a popup if a larger version is available. You can also right-click on some images and select the option to view the image separately. Not all images have larger versions. Contact us to confirm whether a large copy of an image in which you are interested exists.
Related documentation for information published in this report may be available. Researchers have added significant content on some 'C' Force members in the public group "Hong Kong Veterans Tribute" on Facebook, which you can search by using the member's service number. Feel free to contact us if you would like us to search our offline archives.
We have done our best to avoid errors and omissions, but if you find any issues with this report, either in accuracy, completeness or layout, please contact us using the link at the top of this page.
Photos are welcome! If a photo exists for a 'C' Force member that we have not included, or if you have a higher quality copy, please let us know by using the Contact Us link at the top of this page. We will then reply, providing instructions on submitting it.