Hong Kong Prisoners' Song
"Koo-Da! Koo-Da!" So cries the Jap
As heavy boot and rifle slap.
Koo-Da! Rise from your bed of rags.
The bayonet point for him who lags.
"Koo-Da!" Freeze on the icy road.
Trembling hands lift the heavy load.
Bow, to every smirking Nip,
While yellow hands your neck do grip.
"Koo-Da!" Feel bare feet, cut by stones.
They probe your wounds and break your bones.
Naked, on snow swept compound stand,
Tight-wired the wrist and numb the hand.
"Koo-Da!" Pick dirt from out your rice.
Eat worms, weeds, slugs, snakes, dogs and mice.
Swell your guts with beriberi
Lose your bowels with dysentery.
"Koo-Da!" Watch comrade as he dies.
Tormented by a thousand flies.
On hard wooden boards lie at night.
While bugs and fleas your carcass bite.
"Koo-Da!" Sick exhausted you lie.
A skeleton before you die.
Four long long years of misery.
You pray for death to set you free.
"Koo-Da!" I hear it from afar.
Oft times my dreams it comes to mar.
Heavy slumber or fitful nap.
Again, again I hear the Jap.
"Koo-Da!" In the very pit of hell.
May the Koo-Da at each other yell.
Let Old Nick hear each piercing note,
Ram "Koo-Da!" down each yellow throat.
T.G. Marsh Jr.
The following poem was written before embarking for Hong Kong by Sergeant John Payne of the Grenadiers, who was killed by the Japs after attempting to escape from a prison camp at North Point in the fall of 1942.
The Lost Battalion - Fighting Men All
We've shivered in snowstorms, in rain and sleet,
We've pounded parade squares, in tropical heat
Crawled on our faces, in cactus and sand
And we've swaggered a bit, as we followed the band
On weary route marches, we've ticked off the miles
And we've all had our troubles with acting blank files
And in spite of the Guard Shoot, it strangely appears
We're proud of the fact, that we're all Grenadiers
Chorus
Raise your glasses and follow me
Here's a toast to our destiny
Shout the Chorus, as you never did before
Call us fighting men, just once more
Call us fighting men just once more
John Payne was indeed a fighting man of Canada, who proudly marched a way to lay down his young life as a sacrifice to uphold that which he believed in, his home, his country and our way of life.
If there is a warrior's Valhalla, John will be there and from his comrades who knew him in battle and prison camp will come the cry,
"John. You were a fighting man"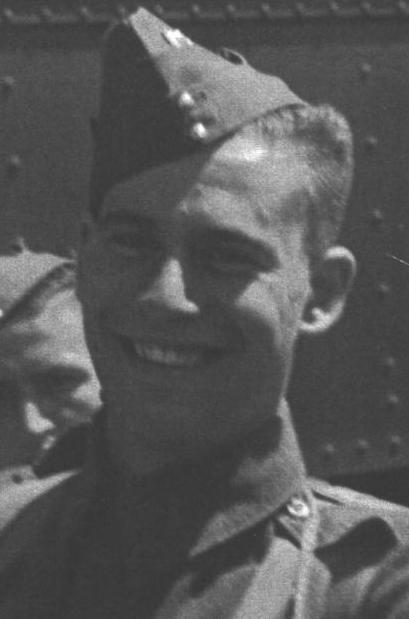 Sergeant John Payne