Memories
Each of Ernie's seven grandsons were asked to record some of their memories of their grandfather for this book. Here is what they wrote:
Mark Hodkinson, aged 43, living in Shoreview, Minnesota:
I did not really know Grandma and Grandad as well as I would have liked because we always lived so far apart much of the time. However, I have a general "sense" or recollection of feeling very comfortable around them and feeling loved. I also remember them, particularly Grandad, being witty and teasing me in playful ways.

Some of my earliest memories are of visiting them at holidays and playing all sorts of games with them. I specifically recall one Christmas getting up extremely early to look for presents at their house in Windsor, and Grandad helping me put together a small train set. I believe Grandad taught me how to play cribbage. I also remember Christmas vacations playing a miniature curling game in the basement, and enjoying Grandma's shortbread cookies. Finally, I easily recall driving to Lake Erie with them singing songs in the car and staying at a cabin on the lake, as well as a vacation to the Thousand Islands where we all stayed in a big cabin (at least I thought it was) and catching my first fish.

Over the years, I generally remember other visits and trips and appreciating that they made me feel closer to them even though years would sometimes pass between visits. In the early 80's, Grandma and Grandad visited Ellie and I at our first apartment in St. Paul. I recall having a very enjoyable evening with dinner and going to a concert. I also remember a Christmas trip we took to Florida where we stayed with Mom and Dad - and Grandad was there. Grandad and Karin (barely a toddler at the time) had a great time playing together, and I remember Grandad yet again whipping me at crib.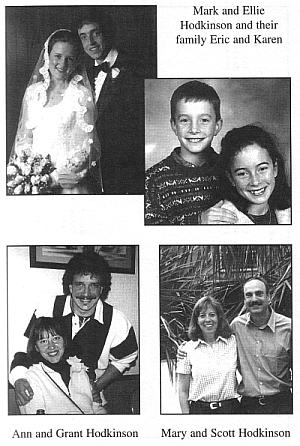 Scott Hodkinson, aged 40 living in Midland, Texas:
Well, here goes ... memories of Ernie (& Irene) Hodkinson (Grandad):


-When visiting my grandparents as a young child I remember being careful not to get my fingerprints on Grandad's car. He used to get mad at us (me & my brothers) if we touched his car. The car was always very shiny and clean. (Always a Ford of course).

-He was very patient ... playing games with us as children. Ping-pong, cribbage, and his table-top "curling" game ... we used to play for hours.

-I remember Grandad telling me about his grandfather (?) and the Boer War in South Africa. He was forced to mrach barefoot for many miles - a very brutal story.

-The smell of tobacco, his "Export" cigarette package, yellow fingernails.

-Drinking homemade lemonade and eating shortbread cookie at Grandma's kitchen in Windsor. (Grandma's kitchen always smelled so good).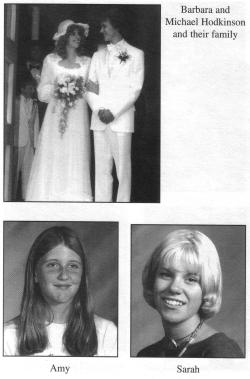 Michael Hodkinson, aged 39, living in Owen Sound, Ontario.
Grandad
Duty

Honour

Commitment

Work
Grant Hodkinson, aged 38, living in Cinncinati, Ohio:
Grandad. That's what we called him when I was a boy. I have lots of memories of Grandad, but the most lasting one would have to be the summer of 1971. That was the summer we traveled across North America in his 'Big Ford': the Lincoln Continental. We drove from St. Paul, Minnesota to Victoria, British Columbia, and then back to Dryden, Ontario in about ten weeks (I think). I suppose I remember that summer more than any other time because that was the longest stretch of time we ever spent together. At age ten, I probably was very impressionable, so Granddad, and Grandma too for that matter, left a very positive and lasting impression on me that I will remember forever.

I think our first stop was in Malta, North Dakota, a very small town near the Canadian border. As we checked in to the small motel, I noticed five or six small, delapitated shacks in a row, behind the existing motel. I imagined these to be the old motel no longer in use, and I took a picture of them. Granddad had noticed this, and it was his idea to develop the film right away and send the picture back to Mom and Dad, with the caption: "Having a great trip! Here's what our motel looks like." So we did. I don't know if they believed it, but I thought that was a funny way to start our journey. Looking back, I'm sure it was Granddad's way of taking my mind off of how homesick I was at the time.

The camera, by the way, was my first, and almost all of the pictures from that trip are blurred and out of focus. Nevertheless, they still flood my head with beautiful memories of Grandma and Granddad.

I had always been afraid of the water, and didn't like to swim, probably because my brothers always dunked me when I wasn't looking. But, for some reason, I trusted Granddad to help me overcome my fear. Each hotel we stopped at seemed to have a swimming pool, so every night after riding in the Lincoln all day, we would hit the pool. First he taught me to float and tread water, the important survival techniques; then came the side stroke and the breast stroke; and eventually we got to the crawl. Mind you, I'm still not an olympic freestyle champ, but by the end of the summer, he had me diving into the deep end of the pool, with confidence.

If you ever go to Vancouver Island, you have to cross a vast expanse of water. I'll never forget the feeling I had when I realized, for the first time, I coulud not see land in any direction. Obviously my fears were unwarranted, but when we crossed that channel, I felt safer knowing I could swim and float. I now believe that the confidence and strength he instilled in me that summer, has carried over into other aspects of my life.

I remember a few quirky little things about Granddad that you could only learn by living with or traveling with someone for ten weeks. Thins like: the fact that he took two lumps of sugar in his morning tea, and by the end of the summer he trusted me to measure it for him; or, the slight clacking sound his false teeth made when he chewed, you know you should always chew each mouthful thirty-two times; or, how mad Grandma got when we would eat cherries and spit out the pits through the window as we drove through the countryside, that used to drive Grandma crazy; or, how I knew the day was done, when I could smell the aroma of scotch and spanish peanuts, that smell still reminds me of him to this day. I am sure by now, as I approach the age of forty, I have developed a few quirks of my own that my nieces and nephews can chuckle about.

In one summer, my grandparents showed me some of the most beautiful things on this continent. Here is a partial list of some of the things we saw that summer:

-The Canadian Rocky Mountains - The greatest mountain range of North America. Twice as nice as the American Rocky Mountains, which I got to see many years later.
-Lake Louise - Absolutely the most beautiful place I have ever seen in North America.
-Banff National Park - This is where we did some camping, which seemed to take Granddad back to his days as a Major. Here, he relayed to me many stories of his days at combat, and of the prison camps he endured.
-A Glacier Expedition - We actually drank water from a glacial river, right on the glacier itself. I don't remember the name of the glacier, but I think it was either in Banff National Park, or near Lake Louise. There was a grand hotel at the foot of the glacier, and we rode up it from there.
-The Pacific Ocean - The view from Victoria Harbour is very majestic. Ironically, this was the first ocean I was ever in, since I've been going to the Atlantic ocean every year for the last twenty years. We skipped stones from the shoreline.
-Victoria, British Columbia - We visited other survivors of the 'Death March' as well as the Parliament Buildings, and the famous Bouchart Gardens.
-The Calgary Stampede, 1971 - Probably the biggest sporting event I've ever attended I've ever attended. I wonder what happened to that cowboy hat Granddad bought for me?
-The Husky Tower - A seven hundred foot tall rotating restaurant. I don't remember if we ate. I'm still kind of leery of heights.

We covered a lot of ground that summer, mentally and physically, and I will cherish it the rest of my life. Our journey was a memorable.

I can think of many other memories of Granddad that I have not shared here, but none were as grand and influential as that wonderful summer. I saw him in Ormond Beach, Florida during the summer of 1989. It was after Grandma died, and I sensed his great loss. As it turned out, that was the last time I saw Granddad and it saddened me greatly. It also taught me a very important lesson. As a young man, I may not have expressed my love, gratitude and respect to my elders as well as I could have, and at that moment, I realized how much Ernie and Irene meant to me; what a positive impact they had on my life. So that fall, I wrote a letter to Granddad telling him so. To this day, I regret that he never got to read that letter, as he died while it was en route, in the mail. I miss you Granddad!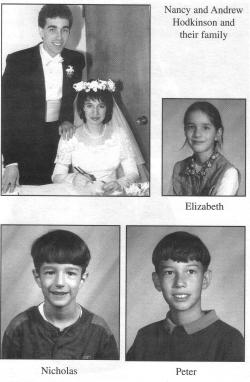 Andrew Hodkinson, aged 36, living near Kemble, Ontario.
What I remember most about my grandfather was playing chess with him. He taught me to play when I was in primary school in Dryden. Over the years, our method of playing changed so that the competition in the games was eclipsed for a more playful nature; perhaps one then the other would try a particular move, the Queen's Gambit was a favourite, and the other would try to beat it. In this way, chess actually became an impassioned study of variation, a conversation point.

And from those conversations I have remembered many things, sometimes irritating sayings but also memories he talked about. For instance, there was the time his father, the Sergeant, took him as a young boy with his army buddies and he slept on a huge pile of blankets that had yet to be distributed to the troops. There was something depressing about it, a child Ernie sleeping while the men drank in the next room. Still, he commented that it was the best bed anyone could have had, so it was also strangely filial.

And there was his eyewitness account of the Winnipeg Riot of 1919: he was standing in front of a dry goods store when someone came and broke the large display window. The owner came out and told him to go along home.

There were also stories about the war, the food and what was done to pass the time. While he must have kept some things to himself, as a child I remember he always seemed quite eager to speak about any odd detail. He talked of how they carved chess boards, spring run cars, and rat traps. He told us about how much more successful he was in making rat traps than the others in the camp. Later, I read Clavell's King Rat, where the plot centers on the P.O.W.'s not knowing they're eating rat meat. In Ernie's camp, they were clearly aware of eating rat meat: a contradiction I've always found confusing.

There were other topics as well: choosing between a career in the army and becoming an Anglican priest, working at Ford's, organizing Scouts, dealing with social obligations, alcoholism -- actually, thinking about this now, many of these talks seemed to deal with applying rules to an unruly world. He certainly was someone who lived his life by rules and expected others to do so too. He seemed particularly hard on young children unless it was in a clearly defined area, like a gameboard. He always seemed to hold onto these rules and rituals as though to lose them would be to fall into oblivion.

I especially remember during his last recovery, when he was encased in that halo brace drilled in his skull, how much he missed his wife. Sometimes I thought he felt cheated and longed to die, but that such thoughts were unChristian and suicidal and against the rules. And that was one characteristic Ernie had to such as great extent, I have never met another who came close. He had a relentless determination that constantly transcended physical limitations; his willpower defined him and overcame unbelievable obstacles. As a result any success or failing was the result of will.

But our relationship wasn't so dark and brooding as this sounds. For example, after he recovered from the halo and was moving into my parents' house, my friends and I had a poker game. About five of my friends came over with a theme of Cowboys and Indians. One person came as Wyatt Earp, another as Poker-hontas, but Ernie didn't dress up. So one of them jokingly said he must have come as Harry (as in the movie Harry and Tonto in which case he must have a cat named Tonto (Tonto apparently sounding like the Lone Ranger's sidekick, hence a torturous connection to the Cowboys and Indians theme). He was quickly and effortlessly accepted by my friends and Ernie was laughing, gambling, and joking as if he had known them for years. This was reinforced by my friends asking Harry if he wanted a beer every time one of them got up for a beer. Harry always said yes until one them came and told me, with deep concern, that we should keep an eye on Harry because he was getting very drunk. After he died, my friends asked if the obituary in the paper was for Harry. I said that his name was really Ernie, to which they seemed surprised saying they thought his name really was Harry. I then realized that they would always call him Harry, which is what they still do.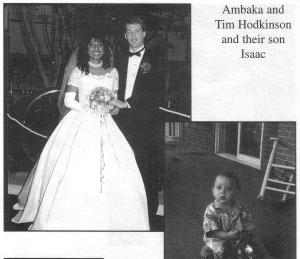 Timothy Hodkinson, aged 34, living in Scarborough, Ontario:
What I remember most about my Grandfather is playing cards with him. He took cards very seriously and from that acquired a sort of reverence for the rules of card games. In the game of 99, if you forgot to pick up another card from the deck after playing your turn, you couldn't pick up another card later, you had to follow the proper sequence and meant continuing the game with only two cards. My brothers and I were always forgetting to pick up that card, and sometimes when we were already a card short! It didn't matter to my Granddad, the game continued and the rules were such that you forfeited the card you didn't pick up. From time to time we would be close to winning the pot (which came after playing almost twelve hands) and in the excitement of approaching "victory" over one's brothers and not to mention the old card-master himself, you would play a card, watch your opponents play and then play again and realize you were one card short, you couldn't play and you probably would have won if you had remembered to pick up after discarding last turn. We often got very angry and shouted and left the living room for a while in protest. But my Granddad's insistence on playing exactly by the rules slowly developed in me a kind of discipline which now I appreciate.

More about cards. One winter Granny and Granddad came to visit, it was probably Christmas. They had just been to Reno for a holiday. Granddad had a special pack of cards with the word "bee" on them and we all played various poker-type games. These cards were the official ones used in one of the casinos. Anyhow, at some point one of my brothers reached out into another brother's discard pile to check if in fact he had really discarded the number of cards he had said he had. Granddad's response was something like, "you NEVER touch another man's cards!" He repeated this several times. It happened again and we soon learned that serious, mature card-players do not touch the cards of another player.

As I was growing up up I always saw my Grandfather as someone who came from a different era. When he came to visit, his personal identity as my "Granddad" was always overshadowed by the history he had survived. He was born in an impoverished, polluted industrial town in England. Most of his family had died of the pollution, but he had survived. He lived through the Great Depression, no work, married, children to support. His first job was defending Hong Kong, a valuable colonial possession from the Imperial Japanese army that had just destroyed Pearl Harbour and was headed his way. He went on to seeing close friends killed, humiliation, slave labour, starvation, tropical disease and left weighing 65 lbs, but he survived.

He was dignified and at ease about all of this suffering too. I remember one evening after Granddad had come to live with us in Owen Sound, we were watching a movie and in the movie a plane was landing in post-war Hong Kong. On the screen appeared the title "Kai Tak Airport". Granddad then said with a little hint of humor, "I helped build that airport!" What this all means to me is that it was possible for a man to go through twenty or thiry years of toxins, poverty, war, and punishment and after that, keep on going.

And then more suffering. Granny died and Granddad came to live with us in Owen Sound. I was very excited about him coming to stay with us. While there was literally an extra part added onto the house in the form of an additional bedroom and bathroom to accomodate Granddad, I felt his presence in the family added another room in a social sense. I guess because I associated Granddad with holiday times it took on a holiday feel.

Granddad suffered again when he got ill from something. My dad and I visited him down in London in an old hospital and I looked at him as if I knew he was going to be dead very soon. I had seen the pattern before in the deaths of my Uncle Charles and my Granny Stanbury. First they get weak, then they go to the hospital, and then I see them in a coffin. But Granddad got better. He came home. He left his wheel chair, moved up to a walker and then a cane. My mom said that he couldn't go outside because it was too hard to get down the short flight of steps to the entryway. I put up railings on both sides of the stairs because, like my mother, I figured part of the problem of going outdoors was that he didn't want to have to bother someone to help him. Later that day he was out walking around on the lawn and driveway all by himself, without the cane. I remember thinking that his life was now moving in reverse. instead of getting old and bent, he was becoming young and strong.

My last memories are when he developed cancer of the pancreas and finally died. I remember that he was diagnosed suddenly and that there didn't seem to be talk of long-term treatment. It had spread too fast and was now incurable. He was given morphine to take more or less around the clock. Once I had to give him his dose of morphine. It was a syrup you have to him with a spoon. He didn't seem to want it and as a mere grandson I felt awkward going against his wishes. Who was I to tell him what to do? He said to me, "Are you going to make me take it?" It hurt me to hear him talk to me like that, but his words caused me to have great admiration for him. I sensed that in these last days of life, after many years of suffering and hardship, avoiding pain was not as important as spending time with his children, grandchildren, and great grandchildren.

I was at home and with him around the time he died. I remember thinking that he probably never would have imagined while in a prison camp at Hong Kong that he would live to an old age and die at home in bed.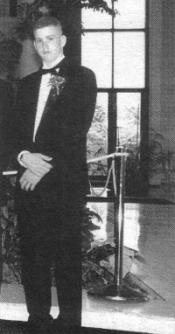 Matthew Hodkinson
Matthew Hodkinson, aged 21, living in Toronto, Ontario.
Though I didn't know granddad as long as my brothers and cousins, I lived with him for several years. I mainly remember him as quiet, and contemplative, though, from the many stories I have heard, I understand this observation to be quite a contradiction.
The memories of granddad that particularly stand out in my life, are two. One was during my fifth grade, when he came to my class to talk about his experiences in the war. I found this interesting, as well as frightening. He spoke about many things, though only gently touching each subject, as he carefully screened the portrayal of memories. He gave only an overview of his experiences in the prison camp and the events that led up to that, but those alone did not leave a dry eye in the classroom. For, what he could not leave out was the emotion involved in such an ordeal, although never specifically related, it was impossible not to feel it. Everyone asked about him, even many years later, and all were sad when they found out about his death.
The other instance I remember, was perhaps the most terrifying to me; even in the atmosphere of horror that the day was supposed to present. I came home from school with several of my friends, I was having a Halloween party that evening. I walked in the door of my house; and proceeded in taking off my boots and coat along with the rest of my friends, when I saw my mother dressed up as a witch. I didn't know they were planning to dress up, but it was a pleasant surprise. I walked up the stairs and into the dining room, and there was granddad dressed in military garb, with a blood-soaked (mock of course) bandage wrapped around his head. Though my friends all processed it as another Halloween costume, I was very taken aback. For he had not dressed up, but instead recreated a similar scene from the horrors of his life. To me this was the most frightening thing I had ever seen and will ever see, God blessing. Though I personally think of the bandage strapped around his chest in the days following his capture, but the expression on his face remained the same. For his expression when I walked in was one of agony, though I do not know why, but it was that agony that was indeed horrifying.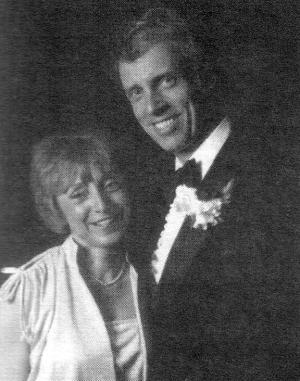 Betty and Sydney Hodkinson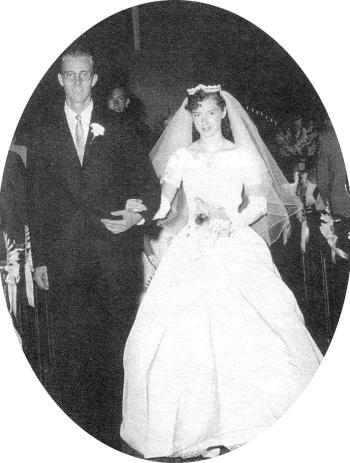 Edith and Spencer Hodkinson (1959)