O Canada, My Home and Native Land
Two of Ernie's letters to Irene written aboard the Empress Australia record Ernie's feelings as he left Hong Kong.
On board Empress Australia
12 Sep 45


Dearest Rene
Here is about the sixth letter or cable attempted but I do hope you have heard regarding us before now. However we expect to land at Manilla to-morrow and have been told there is a special air Mail Bag of mail awaiting us. Hope I am lucky enough to receive one.
The latest information I can glean about my immediate future is a possible 6 weeks stay in Manilla i.e. 20 miles outside the city under canvass in care of American Personel .... Tell all our friends I am OK & hope to see them soon. I am sincerely praying that our stay at Manilla, although it will be comfortable will be considerably shortened as I am living for one thing only at them moment and that one thing is YOU

All my love
always
Ernie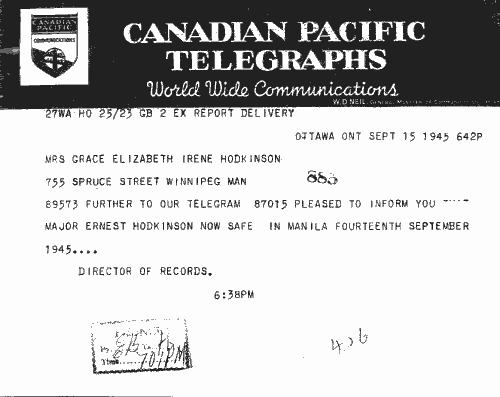 Ernie was one of the lucky ones. A letter from Irene awaited him in Manila just as he had hoped. Even the envelope must have filled him with joy. Stamped across the front are the words Liberated Prisoner of War Mail: Postage Free.
Thursday Aug 23 1945

Dearest:-
It is very hard to realize I can sit down & write you a proper letter, as a matter-of-fact, I am so full of joy, with the knowledge that you also now peace is in the signing, I can hardly speak. Just waiting for your return sweetheart & getting things ship-shape .... Still watching the stars from the sleeping balcony & my little rest at 9:30 still works (your's had better also) .... Spencer entering grade 5 so will need your assistance now. Just think Syd will be going up to Scouts after Christmas so -- They are just at the age for you to ttake over sweetheart and I will be glad.

odooles of love & kisses
your loving wife
Ernie's reply is written at the U.S. Army Camp where the P.O.W.'s were recuperating until well enough for the long trip home to Canada.
7-660 Coy. Repl. Det.
U.S. Army
Phillipines
17 Sep 45


Dearest Just receieved you letter dated Aug 23rd 45. was glad to see it. I borrowed a pen to reply immediately. Hope you have had the cables and previous letters and now know that I am O.K. and getting fatter every day, just counting the hours until I meet you. You'll notice the ink ran out but so what! Boy am I ecited, elated, effervescent, effussive etc. However I promise to be a good boy when I arrive. ... Why the threat about my 9:30 appointment not working. it sure does.
A son 5 ft 1 " another 4'8" do I feel old. However I will do my best for them in all things and for you I can only say I'll try to prove I'm not too old anyway.
Remember me to all with best regards.

All my love
Ernie
In spite of all the joy and love expressed in these letters, small hints of anticipated difficulties of adjusting to family life again after the years of imprisonment occasionally surface e.g. in Irene's letter of Oct 1, 1945. She says:
Spencer had a car accident this year at Calgary, a car hit him and he was in the hospital for 23 days, got a nasty scar on his forehead overtop of the baby ones, also had his left arm broken ... You can ask him about it (just for something to say) as he is so worried that you won't be able to recognize him (he was such a little kid when you went away)...
There is also another bit of news that will result in an almost comic scenario later: "Your Dad left Montreal around Sept 5th to go back to the old country (will tell you more later)." So it is with joy and also some anxiety that Irene hears that Ernie is sailing for home. Ernie records that he embarked on the Admiral Hugh Rodman at 1900 hrs. 18 Sep 45 sailing for San Francisco.
There followed a series of telegrams beginning with one from Irene.
Winnipeg Sept 22nd 1945


PWM Major Ernest Hodkinson
Winnipeg Grenadiers (MG) Canadian Liberated
POW Manila Via Melbourne
All in good spirits. Hope you enjoy safe voyage.
All my love.
Irene

1945 Oct 4
Mrs. E Hodkinson
774 Spruce St. WPG
Arrived Frisco to-day. Leave 5 p.m. for Victoria. Takes 42 hours Advise our arrival Winnipeg soon as know
Love Ernie
Nora Burnett, Ernie's sister, also set a message to Ernie via the Red Cross.
Message to Liberated Personnel in the Far East:
Dear Ernie:
Seeing we, Aunt Betty, George and us are in Vancouver we will meet the boat when reaching here as we have heard you may come Pacific way. Rene and boys are well. George is married. Dad, Mum will be here too. Love from all.
Nora Burnett
Some other old friends also met Ernie on his arrival in Vancouver and they sent Irene this telegram.
Oct 7, 1945 7 P.M.
Vancouver B.C.


Mrs. E. Hodkinson 755 Spruce St Wpg.

Dear Mrs. Hodkinson.
It gave us great pleasure to meet Ernie off boat to-night. He is fine. We spent about one hour with him. Train just pulled out for Peg. Hope you are all well. Wishing you both the very best on his return. Love from all your old friends.
Mr. & Mrs. E. Palmer
What did Ernie think and feel to see and touch all these familiar people after nearly four years of experiences that these people could only remotely imagine? Ernie was not a man who easily expressed his emotions except to Irene, the great love of his life. But he must have had a sense of really being home as he saw and spoke to his relatives and friends. Was he impatient to begin the last part of the journey back to Winnipeg and Irene? In every letter he expresses his tremendous longing to be back with her and to see his sons. But once again there is some anxiety about adjusting to home life and to finding employment.
Give my regards to all our friends and acquaintances, if any, and please don't make any dates to visit people too soon after my return. Don't be alarmed if I am not quite a hermit but at present feel as if Home is the place for me for sometime at least. Have Ford's opened up again in Winnipeg, or do I have to get in touch with Windsor to find out something about the future? This can be answered when you see me. If necessary you could contact Mr. Hobbs and let him know I am on the way, although I have written to him myself c/o the Windsor Plant.
(letter written aboard U.S.S. Admiral Hugh Rodman, 30th Sept 1945)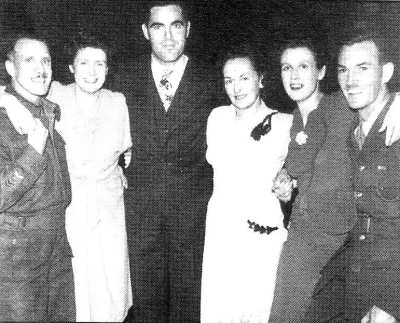 Ernie, Irene and friends Dec. 20, 1945
Ernie said little to the family about his adjustment to civilian life. But he did say that it took some time before the boys would really talk to him: "If they needed to know something, they would go to the kitchen to ask their mother even though I was right in the room with them". He also mentioned that he and Irene took a holiday by themselves leaving the boys with friends. This too must have helped both of them adjust to married life again after the long separation.
As if Ernie didn't have enough things to deal with at this time, his father, James, decided to add to his problems. As mentioned earlier in one of Irene's letters, James chose September 1945 to return to England. He didn't find things to be what he expected. He seems to have forgotten that England had just been through a long and very devastating war. James Hodkinson's letters show little concern for his son and mostly express a series of complaints about the lack of mail, the slowness of government officials, poor food, the lack of money, and even the weather! He does admit that he brought it on himself: "I made a sad mistake in coming over here but of course there is no one to blame but myself" (letter to Ernie, April 23, 1946).
This is the first letter that Ernie received from his father:
Dec 11, 1945

Dear Ernie
I hope by the time this reaches you that you are feeling more like yourself and getting back to normal again after your long absence abroad. I arrived here on the 8th of last month. I left Wpeg on the 14th Aug intending to pay a 3 months visit over here. I could not get away from Montreal on a passenger boat so I signed up as a member of the crew on a Cargo Ship bound for Poland and Finland. The voyage took 69 days before we landed here. I was astonished to find no Mail had come for me. Before I left I called Deer Lodge and told them my intentions and everything seemed O.K. I also wrote to Ottawa in order to ensure there would be no slip-up. But up to now nearly 4 months I have had no reply. It has put me in a very awkward fix as I don't know how I am going to get back and I am also losing my Veterans Allowance of $20 per month while I am away from Canada. I wonder if Mr. Jettman (Soldiers Advocate) at Deer Lodge Hospital would help me out in any way. This state of affairs is entirely the fault of the Pensions Officials.
With love and best wishes
Your affectionate Dad
Four more letters followed, each one portraying the worsening circumstances of this pathetic old man, who was the victim of his own stubborness and folly, although one has to admire his ingenuity in signing on as crew on a cargo ship at age 76.
Here are some excerpts from James' other letters to Ernie:
I am stranded here, poor food and walk the streets aimlessly. I am very sorry to write this strain but I am so unhappy and distressed ... Please send me back to Winnipeg as soon as you can ... You are the only one I can turn to for help. Please do not fail me.

(April 6/46)
Your letter to hand, also the Cheque for 10 pounds for which I thank you... I have tried all ways to get back but with no results. Shipping is banned from this side. ... Food here is very poor, everything is rationed and very little of it. 2 oz of this and that per person each week. The weather here is awful, cold and misty, hardly any sunshine.

(April 23/46)
The next letter in the series written on the back of one from the Canadian Immigration Branch in London England requesting information about who will pay for James' return transportation and also who will receive him upon his return to Winnipeg. This is followed by a carbon copy of Ernie's letter.
10 May 1946

Dear Sir:
As requested in your letter of the 2nd May 1946 to my Father, Mr. James Hodkinson, 49 King Edward St, Macclesfield, Cheshire ... My Father left for a visit to England in September or October of last year, prior to my arrival home from Hong Kong, where I had been "entertained" by the Japanese for a period of four years.
I am most anxious for his return to our home, as I last saw him in September 1941, and he, as you may realize is now advanced in years and just as anxious to see me again. ... I will be only too pleased to forward him the necessary monies for travelling home.
Thanking you in anticipation of your prompt action in this case.
I remain

E. Hodkinson, D.S.O. Major
1st Bn Winnipeg Grenadiers
This is part of the reply that Ernie received from the Canadian Immigration Branch in London England:
30th May 1946

Dear Sir,
Referring to you letter of 10th May, you may be assurred that as soon as we receive advice from our Service in Canada as regards the proposed movement of your father, Mr. James Hodkinson, we shall be guided and promptly take action accordingly ... You will understand that it may take some time before your father can secure passage and that Canadian authorities have no control over existing conditions.
The final surviving letter from James to Ernie is dated July 20, 1946. In it he thanks Ernie for sending 50 pounds and seems to be preparing to leave England shortly.
I am waiting for my passport which should come next week. I am all ready and anxious to start. There is so much red tape and the rationing of food is awful, such poor meals every day. One always has a hungry feeling ... I have not heard from Florence since I left Winnipeg last August 14th. She sure has forgotten her old Dad and all that he has done for her.
When I know for sure I am due to leave, I'll send you word and will wire you as soon as I arrive in Montreal.
Again many thanks. My best love to you all. The weather here is fierce, lots of rain this week & damp and cold Roll (?) on when I reach Winnipeg.


Your affectionate Dad
Exactly when James returned to Winnipeg and his family is not recorded anywhere. However, after this bizarre adventure, James stayed on in Winnipeg where he died in 1954 at the age of 85 years.
One of the problems that faced Ernie and most of the Canadian men returning from the war was finding employment. Ernie went to work for the Ford Motor Company in Winnipeg where he had worked previously. He had barely gotten settled into this jop when the company moved him to Burnaby in British Columbia. This meant leaving their comfortable two story clapboard home on Spruce St. in Winnipeg and for Sydney and Spencer it meant new schools and new friends.
For the first three months the family lived at the Hotel Vancouver with Ford's paying the bill until they found a house. Housing was in short supply after the war because except for some 'wartime housing' very little was built. Spencer remembers it as a most happy adventure. He describes a typical day during this time:
In the morning, Syd and I would go with Father to the Georgia Hotel for breakfast. Then Barney Melsness, one of Father's co-workers, would drive us to Burnaby. Sometimes we drove through thick fog. Syd and I then walked from Ford's to Kingsbury West School. We ate lunch at the Silver Cafe on McKay St. I loved the Stubby orange drink there. We all went back at the end of the day to the Hotel Vancouver. After our homework was done, there came the best part of the day. We would go out to choose a place to have Supper. The weather was mild, sometimes lightly raining and there were always the sound of gulls -- so different from Winnipeg.
He also remembered their Christmas in the hotel as a happy time. They smuggled a Christmas Tree into their room and had a regular family Christmas. They must have also seen their extended family during this time as Mr. and Mrs. Ernest Pilgrim, Nora & Bill Burnett with their two sons, Allen and Brian, as well as George Pilgrim and his wife and Betty Pilgrim (aunt Hilda's daughter) all lived in and around Vancouver. Irene must have appreciated their companionship during the days while Ernie and the boys were at work and school, but Irene's main job was to find a house. Irene finally found a house to buy at 4231 Imperial Street in Burnaby. It was a modern white stucco house with a plum tree in the backyard. The boys made new friends, Spencer remembers his best friend was Warner Woodley, his next door neighbour. The family attended All Saint's Church, took music lessons and were active in Cubs and Scouts. Irene always told the family how much she loved this house and their life in Burnaby.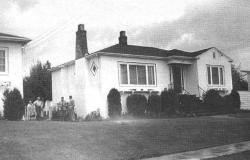 4231 Imperial St. Burnaby, B.C.
Then in 1948, Ford's once again moved Ernie, this time to their plant in Windsor, Ontario. This was a city of heavy industry with little or no natural beauty. Neither Ernie nor Irene wanted to make this move, but Ernie had to go where the company sent him. Once again, they bought a house, 2282 Windermere Road and went to church at St. Andrews (later St. Barnabas) and took part in Scouts and music.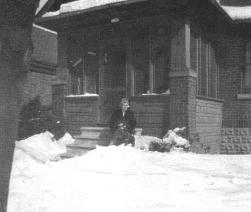 2282 Windermere Rd. Windsor, Ont.
As always, music was a big part of their lives. Both Ernie and Irene sang in the church choir and in the Scottish Choir. Sydney played violin in the school orchestra and began to learn the trombone. Sydney played in the Windsor City Band and Spencer played trombone in the school band. For Sydney, music was becoming the most important part of his life.
Windsor was to be Ernie and Irene's home until Ernie's retirement in July 1968 due to poor health, particularly bleeding ulcers for which he had undergone several operations. Twice he had collapsed on family holidays and only quick medical help saved his life. Many Hong Kong veterans suffered serious medical problems but received little financial help or sympathy from the Canadian government. In The Desperate Siege, Ted Ferguson describes the situation:
The struggle began practically the day they returned home. Department of Veteran Affairs hospital rejected many Hong Konger: doctors had never heard of the rare tropical diseases some soldiers had contracted and loath to admit their own ignorance, the doctors accused the men of faking symptoms and malingering. Mental problems resulting from prolonged captivity elicted a similar response, and one survivor says a Toronto doctor told him, "You guys are crybabies. Why don't you act like real men and forget the war."
It was the government that wanted to forget the war and all its blunders and resulting tragedies. The Hong Kong Vets suffered from premature aging, muscular defects in hands & feet, stomach ulcers, dental problems, alcoholism, and often had to take early retirement.
(Desperate Siege, p. 236).
Ernie suffered from many of these problems.
In 1951, the Canadian Government finally agreed to pay $1 for each day of forced labour and ill treatment and cheques for $1,300 were mailed to each survivor. It took eight more years of arguing before the government agreed to another 50 cents per day. Most Hong Kong veterans failed to qualify for the full disability pensions because they had to prove their disabilities resulted from war experiences. Many of these disabilities resulting from starvation or emotional stress only appeared after some months or even years. With the government attitude, the survivors found it difficult to get help. They formed the Hong Kong Veterans Association which never gave up trying. In 1952, the Canadian Government legally absolved Japan of any responsibility of wartime reparations to Canadian P.O.W.'s. To this day, the Hong Kong Veteran's Association is still trying to get help for the former P.O.W.'s and the government attitude is still unsympathetic.
After Ernie's retirement from Ford, Ernie and Irene moved to Victoria where they enjoyed working with Scouts, lawn bowling, curling, and Christ Church Cathedral. In October 1986, Irene died of a massive stroke. Ernie was desolate and after he became ill in December, he agreed to come to Owen Sound, Ontario, to live with Spencer, who had a medical practice there.
In Owen Sound, Ernie made a complete recovery, even though the medical opinion was that he would be in a wheelchair for the rest of his life. But true to his strong, determined character, Ernie struggled to walk again. In a few short months, he went from wheelchair to walker to cane to walking independently. He took an active part in St. Thomas' Church and the Grey-Granite Curling Club.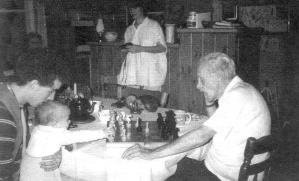 Andrew and Peter play chess with Ernie
He enjoyed the company of his youngest grandson, Matthew. They played cards and various board games and Ernie attended events at his school: Ernie was the speaker at the school's Remembrance Day Ceremony in 1988. He went to all Matthew's soccer games and insisted that his large Lincoln Continental be used for transportation. He no longer drove but he like to ride in his own car.
His great-grandchildren also helped to brighten his life. He played with Michael's daughter, Sarah, who like to pretend to have tea in 'great-granddad's house'. This was her name for the room which had been built just off the kitchen so he didn't have to climb any stairs. After 'tea', Ernie would have a nap and tiny Sarah would cover him with a blanket and kiss him goodnight.
In October 1987, his first great-grandson, Peter, was born to his grandson Andrew. Ernie travelled to Toronto for the christening. Then in October 1988, a second grand-daughter, Amy, was born to his grandson, Michael. For Christmas 1988, Ernie went to Ormond Beach, Florida to spend the holiday with Sydney's family. Here he played with Mark's daughter, his great-granddaughter, Karin. Ernie and Irene found great joy in their two sons and seven grandsons and now they helped to relieve the loneliness for Irene in Ernie's final years.
In March of 1989, some of Ernie's family including grandsons Timothy and Matthew travelled to China and Hong Kong. Ernie wanted them to go to the Sai Wan War Cemetery and have their picture taken by Colonel Sutcliff's and Brigadier Lawson's graves: "If I could see my grandsons there, I might feel we did it for something. "That statement was about as close as Ernie ever came to saying how he felt about the battle for Hong Kong and his years as a P.O.W. in Sham Shui Po.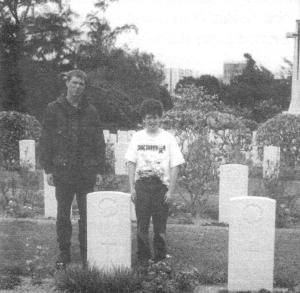 Grandsons Tim and Matthew by Col. Sutcliffe's grave at Sai Wan war cemetary, Hong Kong, March 1989
By May, Ernie was having more digestive problems than usual and was diagnosed with pancreatic cancer. He resisted taking to his bed and even tried to do without large doses of morphine. After his grandson Andrew returned in June from his studies in Toronto, Ernie played a final game of chess. He had talked for some time of playing chess again with Andrew.
Ernie died at home on July 5th, 1989, but he lives on in the memories of his family. His ashes rest in the crypt of Christ Church Cathedral in Victoria, B.C. beside those of his beloved wife, Irene.