Home in Winnipeg
After Ernie left Winnipeg by train on October 25th, 1941, Irene returned to 755 Spruce St. with their two young sons. It had been a emotional and patriotic scene as the Winnipeg Grenadiers proudly marched along the station platform. Irene, with Sydney and Spencer, would have felt some fear for his safety but Ernie had probably told her that the Grenadiers would go to a relatively safe garrison duty somewhere. Most thought that would be India. After all, Brigadier John Lawson said after assessing them that they needed "refresher training" (The Valour and the Horror, p.12). Therefore, it seemed unlikely they would be sent into battle.
When Ernie's telegram arrived announcing his safe arrival in Hong Kong on November 20, 1941 (see Chapter Two) Irene would have been surprised, but how much she knew about the situation in Hong Kong remains in doubt. No letters remain from 1941 but in his telegram Ernie says that he will be writing to her. He often told the family that he found Hong Kong interesting and exciting during those early weeks. He told of buying gifts for Irene and the boys which he never had a chance to send before the Japanese attack changed his life forever.
News of the fall of Hong Kong on Christmas Day 1941 must have been terrible for Irene. Where was Ernie? Was he dead or alive? Was he wounded? Would she ever see him again?
Irene was a woman of strong character and great Christian faith and she had two little boys that she loved greatly. She carried on, making life good for Sydney and Spencer.
Family, Church and her work with the Scouts filled Irene's days. Her own parents lived nearby, as did Ernie's father James; and Florence, Ernie's sister and her baby Joan were frequent visitors. In Irene's first letter to Ernie (April 22nd, 1942), she mentions that Florence is married. Irene played an important part in this wedding as is recorded in the following newspaper article:
A quiet wedding was solemnized December 29, at St. James Anglican Church when Canon G. W. Findlay officiated at the marriage of Florence Elizabeth, daughter of Mr. J. S. Hodkinson and the late Mrs. Hodkinson of St. James to Pte. J. W. Spooner R.C.A.M.C., son of Mr. and Mrs. T. A. Spooner of London, England. The bride was attended by her sister-in-law, Mrs. E. Hodkinson. Corp. T. St. G. Johnson R.C.A.M.C. was best man. A reception was held at the home of Mrs. E. Hodkinson 755 Spruce St.
(from a newspaper clipping with no name of newspaper attached)
It is hard to imagine Irene's state of mind during this event. She must have been very busy with preparations for the wedding and the reception . In the midst of this came news of the surrender of Hong Kong. She obviously did not allow herself to break down. She carried on with the wedding which would have been especially important to Florence, as a young woman with an illegitimate baby had little chance of finding a husband in those days.
Irene also tells Ernie that her youngest sister Gladys was married on March 28th. Gladys married Don Colpitts who was in the Air Force. They eventually lived at Gimili for some of the duration of the war. By this time, Irene's other sister Nora and her husband Bill Burnett were living in Flin Flon.
Irene's family burdens were still heavy because with both her sisters living away from Winnipeg, she had to care for her mother. She tells Ernie of the situation: "Dad has been away all winter and Mom has been very sick and Dr. Hague says it is heart trouble." (letter to Ernie, April 22, 1942)
"Dad", Mr. Ernest Pilgrim, would have been away working. Like many other men during this time he had often had trouble finding work even though he was a skilled stonemason and builder. Little was being built in Canada. All resources were being put into the war. Mr. Pilgrim had originally moved from Dauphin to take a job as Building Supervisor with the Municipality of St. James. Later he moved on to a better job with the Traumbly Architectural Firm. The Depression hit the building industry hard and Mr. Pilgrim's partner wanted to declare bankruptcy.
Irene told the family that her father considered this dishonest because their creditors would get little or nothing. He personally undertook to repay all that was owed. This meant taking work anywhere throughout the west. It was a time of great hardship for both Mabel and Ernest Pilgrim. Irene greatly admired her father not only for his skill as a stonemason, but also for his integrity.
The date of Irene's first letter to Ernie is somewhat of a puzzle. She wrote it in April 1942 and addressed it to Major Ernest Hodkinson, Winnipeg Grenadiers, Taken prisoner of war at Hong Kong, Core of Force "C". This predates her first telegram telling her that Ernie was on an unofficial list of P.O.W.'s (see chapter four). She must have written this letter hoping that he was still alive, or she had unofficial information from some source.
July 1942, Irene, Sydney and Spencer. Photo requested in Ernie's first letter.
Also mentioned in Irene's April letter was her work with a Cub Pack, and that Sydney was taking violin lessons and Spencer was taking piano lessons. Irene was an extremely musical woman and had a lovely alto voice. She may have had some musical training since she could read music enough to play simple pieces on the piano. Mostly her musical talent was her lovely voice. Church choirs had been part of her life for many years. These choirs were her opportunity to express her love of music. She encouraged both her sons in their musical studies.
Music became an important part of Sydney and Spencer's lives. Sydney made it his profession as a clarinetist, composer, conductor, and a professor at the prestigious Eastman School of Music in Rochester, New York. Spencer was an amateur trombonist, playing in bands at Queen's University in Kingston, Ontario, and later in the Town Band in Dryden, Ontario. This love and appreciation of music was one of the most important gifts that Irene gave to her sons. By giving them the opportunity to study music, she encouraged their musical abilities to flourish.
Irene had to cope with the boys' problems as well as their accomplishments. As she tells Ernie about their problems, she reveals herself as an understanding and wise mother. She describes the beginning of Syd's musical career:
"When Syd started back to school he wanted a violin, so said we would see & about Nov. 30 he mentioned it again & I found out his "Pal" plays one so thought after a while he would forget about it, but no, about a week before Xmas he said "Mom don't buy me anything for Xmas or my birthday as long as I get a violin as I found out the one I need will be about $25 & only last me a year as I need a 3/4 size." So sweetheart when I saw he meant business I told him all the gruesome things, practice and make it look hard work but we would gladly do it on a condition that he kept at it for 3 yrs., $1 lesson once a wk., all agreed so he is getting nicely started on his 8th birthday, had one very bad lesson day, came home & said he was too sick for his lesson...... I made arrangements with Mr. Linton (teacher) for him to go Thursday. On Thurs. he never came home til 5:30 & the boys told him he was a sissy taking lessons & then Syd said "Gee I wish I never had a violin" so - Mom said "Alright dear, no tears. You take your violin and your two books back to Mr. L and ask him how much he will give you for them, then pay him for your lesson & you won't have to play in the school orchestra for Daddy when he comes home" Sydney arrived home about 7:30 slid the case into the kitchen with never a word & I said "Oh didn't Mr. L want it?" "No mum I never asked him but he's given me a new piece & I can play God S.T.K. listen" I have had no more bother sweetheart & he really does practice when he doesn't want to. I leave what I am doing & just go to the piano & start playing his exercises & it has worked so far."
(letter of April 1942)
With Spencer the problems she describes are very different and in her telling she reveals her sense of humour:
"Spencer is getting along well at school but did not get on so well with Miss Pulford but she put him up at Xmas into Grade I & he likes Miss Andrews very well & he is improving but every once in a while he will bring home a writing lesson with a big red ? on it as it is a very sloppy affair. Spencer started back at his piano lessons on March 15th & is doing fine. Since he started school he has quieted down but still has a lot of reserve ambition which comes out in the most unexpected places such as Sunday mornings in Church, after the offeratory we sing God Save the King & he lets forth so much that the organist said he thought we would have to take him in the choir to avoid competition & just try to keep him in clothes but he has gained weight & looks well, eyes are much improved but not feet."
(letter of April, 1942)
All these detail must have made Ernie feel in touch with the daily lives of his two little sons.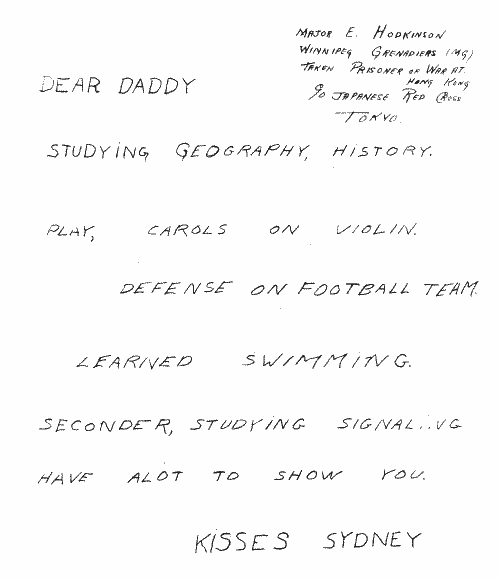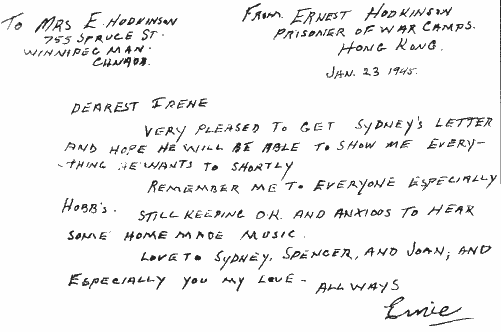 Sometime after June 3rd, 1942, Ernie's first letter arrived. He sends his regards to all the various family members and asks for a snapshot of Irene and the boys.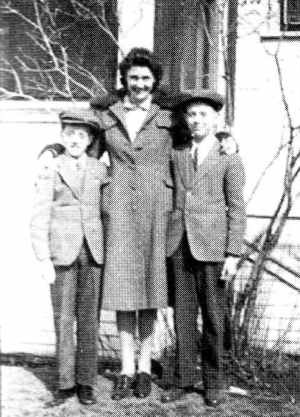 Irene and Boys 755 Spruce St.
Irene's next letter is dated Sept. 7, 1942, and she says that she has received his letter. She tells of a holiday that she, Sydney, and Spencer had in Flin Flon with Nora and Bill. She told the family that she had been under tremendous stress and felt she had to have a time away from Winnipeg.
The photos from that holiday show Irene looking extremely thin. However she made sure her sons had a good time. Their playmates were their cousins Allan and Bryan Burnett.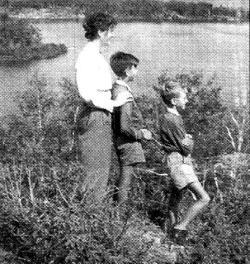 Holiday at Flin Flon
"The boys built a playhouse at Nora's a good one too & one morning we went to take a snap of it & they had it half torn down & wanted to build a log cabin but only got the walls up."
Ernie's next letter is undated but judging by the contents he must have received Irene's first letter. Here are some excerpts:
"Dearest Irene:
Very pleased to receive letter from home at long last and hear that all are well. Keep up the good spirits and work. Hope Florence, Dad, Gladys are all happy and contented. Who did Florence marry? Sudden wasn't it. Extremely happy that both Sydney and Spencer are taking music lessons. It will be an accomplishment they will never regret the labour of acquiring. I hope to be home by Sydney's tenth birthday and expect some duets from them. Tell Dad I am in good health and no one is to worry.
All my love, to all,
Only Yours
Ernie"
Another letter dated Aug 3rd arrived from Ernie acknowledging the receipt of snapshots. He sends greeting to all the various family members and asks about Sydney and Spencer's schoolwork and music lessons.
1943 began with another telegram:
"This department has received the following information from an official source and consequently is unable to vouch for its authenticity STOP This information is to the effect that your husband Major Ernest Hodkinson is getting along very well and is in good health." F.W. Clarke Lt. Col. F/H.G.G. Letson Maj. Gen. Adjutant General
By now Irene had been corresponding with Ernie of course but the Japanese had not been co-operating with the Red Cross so there had been no official contact with the P.O.W.'s. By October the Japanese have allowed the Red Cross access to the P.O.W. camps and Irene received the following telegram:
"Official information has been received from Tokyo Japan through the International Red Cross Geneva that Major Ernest Hodkinson is a Prisoner of War at a Hong Kong camp. STOP Further information follows when received. Officer I/C Records
Irene's last surviving letter of that year continues to give Ernie the comforting details of his family life.
"Dear Ernie
We are all well and brown as berries. We came to a little summer resort 15 miles from where Nora and Bill live for July and August. The Cubs and Scouts both had an entry in the Musical Festival this year.... Sydney and Spencer both took part.... We won the cup with 83 points. Not bad, eh dear? Sydney is 4'11" tall, 68 pounds, passed to Grade 5 June 1943. Spencer is 4'5", 56, passed to Grade 3. Irene? Just the same as you left sweetheart. Sydney is getting on fine with the violin. He had the honor of being the first contestant to open the Silver Jubilee.... Spencer is keeping up with his piano lessons. Hope you received the snaps. Will say buy buy for now dear, Hope you are keeping well.
Your affectionate wife and sons
Irene"
A small grey diary sized book with Chinese characters on the bottom of the pages was used by Ernie to record significant dates during his imprisonment. He recorded that he received his first personal parcel on February 27, 1944. It was most likely from Irene. Ernie told the family that after the liberation in 1945, they discovered hundreds of parcels that the Japanese had kept instead of delivering to the prisoners. Sometimes these parcels contained food that made the difference between survival and death for the P.O.W.'s. Only four small cards written in 1944 from Ernie to Irene have survived and none of her letters from 1944. His cards give no news but would have reassured Irene that he was still alive and well enough to write.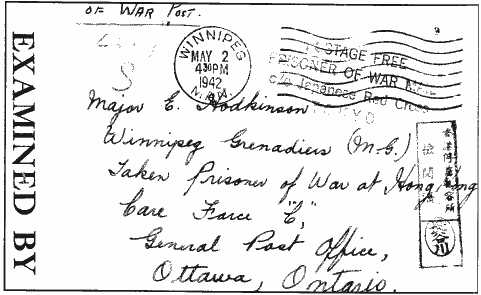 In an undated letter from Irene, she mentions having received one cable and 5 letters by October 1944 and that she has made some changes at 755 Spruce St:
"Mother and Dad have had the rooms upstairs since July 1944, I turned the small bedroom into a kitchen & rented the upstairs. Gladys, Dad and I made the back shed into a bedroom for the boys & I sleep on the balcony (to watch the stars). Dad & Mom are moving to Vancouver.... Mr. and Mrs. Walker wanted to rent the upstairs but I haven't done anything dear until you come home, that was why they said they would look after the boys if we wanted a holiday."
Love
Renee"
The tone of the letter suggests that it was written in 1945 after the Japanese surrender. All the letters to Ernie after this one are stamped "Liberated Prisoners of War Mail". That one word "liberated" must have filled Ernie and Irene with joy as they anticipated being together again after four years of anxiety.