CHAPTER TEN - Summer and Fall, 1942
Mother didn't plan to go away during the summer of 1942. She said she'd had enough of travelling during the previous summer.
However, in June she received an offer that was just too good to turn down. She told Daddy about it in a letter.
Dearest Vic,
You will be surprised to see from this letter that we are at Victoria Beach. I had no idea of going away this summer, but early in June Mrs. J.S. Little (the wife of Principal Little of Kelvin School) phoned me and said that they were going to British Columbia for a month, and they would like to give me their summer home to use while they were away.
It is just a beautiful cottage, set in a grove of pines, near the lake and stores. This will give you an idea of how much our friends want to do for us. Mrs. Little said it was small return for all that I was giving up for them. Just imagine!
She wouldn't even listen to me when I offered rent.
Well, it has been a perfect holiday for all of us. The children are all brown and rosy, and they hate the thought of going home, and I have loved all the peace and quietness.
The weather has been very good — not too hot, and only occasional rain. The Nesbitts have a cottage quite near us, and I always meet lots of people I know on the beach.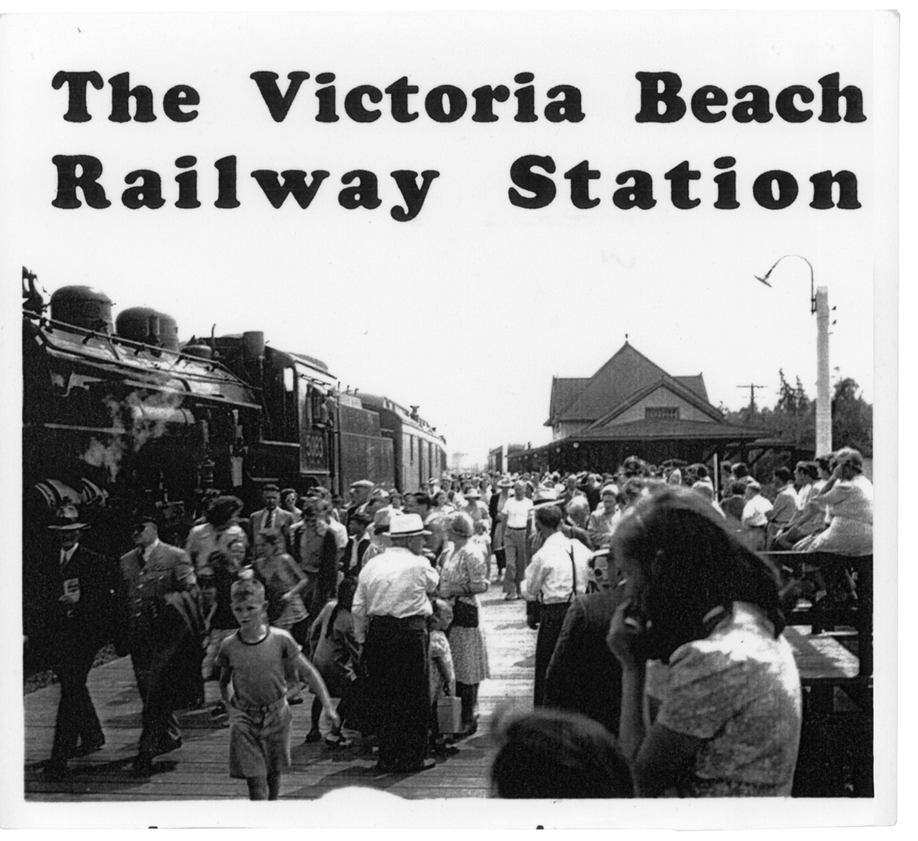 Victoria Beach is a cottage community on the east side of Lake Winnipeg, about 100 kilometers from the city. In 1942, there was no road into Victoria Beach. Everyone travelled there on the trains that departed each morning and evening from the CNR Station on Main Street. In those days, many mothers stayed all summer at the cottage with their children, and on Fridays there was an extra train, the 'Daddys' Special', which left in the late afternoon so that the fathers who were coming from the city for the weekend could join their families for dinner at the lake.
The only way into Victoria Beach was by train; as a result, the station was often a hub of activity in the community. Practically everyone in the community went to the station to watch the train come in, even if they weren't expecting anyone.
We'd always feel a twinge of sadness as we watched the men hug their wives and pick up their children and swing them around.
They all looked so happy.
The station was right in the centre of the village green that also housed the bakery, the grocery store, the butcher's shop and the Moonlight Inn, where people went to buy ice cream cones and light meals. The station platform was always abuzz with activity whenever a train arrived. Young boys pulling wagons waited to take people's luggage to their cottages, charging twenty-five or fifty cents, depending on the size of the load. Laughing and chatting and holding hands, the people would gradually disperse along the narrow, heavily forested paths that took them to their cottages.
On the day we left for the beach, our neighbour, Mr. Morgan, drove us to the station and helped load our bags onto the train. He was still sitting talking to Mother when the conductor began to close the door. They were so engrossed in conversation that he didn't hear the warning to disembark.
'Ewart, the train is about to move! You'd better get off quickly!' Mother shouted to the conductor to open the door, and Mr. Morgan jumped off the train just in time. He smiled and waved at us from the platform, his bald head shining in the sun, and we waved back until the train carried us out of sight. The coaches were filled with families bound for the beaches along the east side of Lake Winnipeg, and the train stopped at each of them in turn: Patricia Beach, Beaconia, Bel Air, Grand Marais, Grand Beach, Hillside Beach, Albert Beach and finally Victoria Beach, which was at the end of the line.
Mother paid a boy with a wagon to take our baggage to the cottage, and we followed along behind him, chattering with excitement. The aroma of freshly baked bread from the village bakery mingled with the scent of spruce and pine trees, and our feet sank into the fine sand of the paths. Shouts of laughter echoed from the kids playing by the lake. We could hardly wait to get into our bathing suits and join them, but Mother insisted that we help her unpack and settle into the cottage. She also had a strict rule, probably to save her sanity during the holidays — every day for half an hour after lunch we had 'rest time'. Each of us was sent to a separate room to read or play quietly while Mother took the opportunity to read or write letters or just sit quietly and think.
The Littles' cottage was truly delightful. It faced east so the morning sun streamed through the front windows, heating up the screened veranda. There were three small bedrooms with double inam beds and a large living room with a stone fireplace.A little cuckoo clock exactly like mine hung on one of the walls.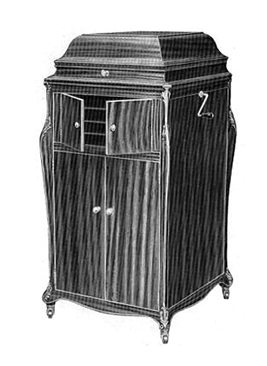 There was also a windup Victrola with a stack of records. I never tired of playing The Isle of Capri and The Big Rock Candy Mountains, singing along as the heavy black disc went around and around, the music getting slower and slower as the machine wound down so that the song trailed off in a sort of wail, unless I turned the handle in time to speed it up again.
A big wood-burning stove presided over the homey kitchen where pots and pans hung from the walls and red and white dishes were neatly stacked on white-painted shelves. Just off the kitchen was a screened porch with an oilcloth-covered dining table. Everything was immaculate, including the biffy out back. Mr. Little told Mother that they always dumped the ashes from the stove down the biffy hole, and this kept it from smelling bad.
The three of us spent hours exploring the forested vacant lot next to the cottage. Many of the birch trees had holes in their trunks where squirrels and chipmunks stored their nuts and seeds. Bluebells and wild daisies and buttercups poked their heads through the pine needles that carpeted the forest floor, and blueberries grew in abundance. Mother picked these and made us a pie and blueberry jam. She also made jelly from the pincherries that we picked from the bushes that lined the streets.
'Oh look,' she said one day, her pincherry-stained finger pointing to a high branch where a cedar waxwing sat nursing what seemed to be a broken wing. The bird appeared dressed for a masquerade with its black mask, toffee-coloured crest and red-tipped wings. Just then, Gweneth Lloyd and Betty Hey (later, Farrally), founders of the Winnipeg Ballet, came by on their way to the store. They were friends of Mother's, and Barbara took ballet lessons from Miss Hey.
'Oh, the little bird appears injured,' said Miss Hey.
'What do you think we should do?' Mother asked her.
'I'd leave it alone,' Miss Lloyd said. 'Wild things usually know how to look after themselves.' A few hours later the bird was gone. What happened to it I'll never know, but it was a thrill I've never forgotten to see a waxwing at such close range.
There were thousands of birds at Victoria Beach: vireos, thrushes, goldfinches, wrens, warblers and chickadees. They woke us up in the morning and sang us to sleep at night. The trees were filled with their nests, and they seemed to be unafraid of us. The chickadees were particularly bold – they would eat seeds from our hands if we kept very still. The chipmunks were also bold, taking peanuts from our hands, and even running up our pant legs to see if we had more food in our pockets.
We children took many walks with Mother along the forest paths, pointing out holes in trees and lifting up wildflowers and toadstools to peek underneath. She told us stories about the elves and fairies that lived in these hiding places. Barbara and I would sit for hours on a big old moss-covered rock in the vacant lot beside the cottage, weaving chains from wild daisies as we watched and waited for these fanciful beings to show themselves. Mother told us that they were very shy, and that if we weren't very quiet we wouldn't see them. Sometimes we thought we saw one, but italways disappeared as quickly as it came.
Only three things mar the perfection of Victoria Beach: fish flies, mosquitoes and the ever-present poison ivy. The fish flies aren't dangerous, as they don't bite, but their annual week-long visitation is a messy business. They fly about, attaching themselves to every available surface — trees, cottage and biffy walls, as well as people. As they die by the thousands, their decaying corpses litter the ground and the beach, emitting a smell of rotting fish.
The mosquitoes are more of a problem, for their bites result in itchy welts, but worst of all is the poison ivy, which causes a blistery rash that is much more uncomfortable than mosquito bites.
Mother had a great fear of poison ivy, and sternly warned us against going anywhere near the three-leafed plants that grew all along the sides of the roads, and even in the yards of the cottages.
Because of her vigilance, none of us got poison ivy, but some of our friends did, and the rash was most unpleasant; it kept its victims from swimming in the lake until it cleared up, which sometimes took weeks, as it tended to spread from one part of the body to another.
We spent every afternoon on the beach, running in and out of the lake, picking up shells and stones, digging in the sand or just lying on our backs watching the puffy white clouds scud across the sky. Seagulls and pelicans flew overhead, their white feathers glistening in the bright sun. Every so often they'd dive for the fish that lurked just below the surface of the water. For the week in mid-July when the beach was covered with dead fish flies, and more fish flies covered the cottage walls and stuck to every tree and bush along the roads, Mother went out every morning and swept them away with a broom, but the next morning they'd be back.
'Fish flies are yucky.' I complained to Mother. 'Where do they come from?'
'They're just part of beach life,' she said. 'They come every year, but only for a few days. At least they don't bite!'
In the evenings we went for long walks, waving branches in front of our faces to brush away the clouds of gnats. On very warm nights, we'd stop at the Moonlight Inn for ice cream cones.
When the weather was cool, Mother would light a fire in the fireplace and we'd roast marshmallows on long sticks as the flickering light from the kerosene lanterns cast shadows on the walls.
Every morning, local people went door-to-door selling fresh pickerel fillets, and sometimes plump blueberries. Everything tasted so good, cooked on the wood stove and eaten in the screened porch. I had always been a picky eater, but Mother said I discovered my appetite at Victoria Beach. She wrote to Daddy:
I am enclosing snaps of the kids. Isn't Margaret looking well? She is eating like a horse now — you would just be astonished at what she tucks away, and her ribs are well covered now, where she used to look so skinny. I think this is a lovely snap of her. Her bathing suit is green, and Barbara's is red. If you look closely you will notice Barbara's gap where her two front teeth are out! Roger is awfully cute and the girls just adore him. They include him in all their games, pretending he is their little boy. They all talk about you every day, dear, and are always saying how nice it would be if you were here too. You'd be surprised how much Roger thinks of you. The first day on the beach he was watching some men playing with their kiddies, and he said to me, 'Mum, my Daddy doesn't come very much.'
Mother celebrated her thirty-seventh birthday on July 23, and we begged her to give us some money to buy gifts for her at the Victoria Beach store. I bought a tiny box of face powder, Barbara a jar of cold cream and Roger a chocolate bar. Each of us made a card with a large 37 on the front, and Mother was thrilled, especially since I remembered her age from her birthday the year before.
On the first of August we returned to the city, happy and healthy, with many memories of Victoria Beach that danced in our heads for the rest of the summer. At the end of August, the first mail arrived from Hong Kong. Dad's letter was hand-printed and sounded somewhat stilted. It was obviously censored — the amount of pay he said he was receiving had been cut out of the letter with scissors. It would appear that the men were forbidden to say anything negative about their captors.
Darling Lucy,
I am now permitted to write and I expect it will be a great relief to you to hear from me. I have been looking forward to this opportunity.
We are being very well treated by the Japanese. We get three meals a day and I am paid [CENSORED] monthly out of which I can buy some cigarettes and such things as toilet articles.
Dearest, I am thankful to say that I am fit and well.
The weather is very hot now and I have a real sun tan. We have cold showers which are greatly appreciated.
Unfortunately I lost all my personal possessions, even my photographs of you all and I haven't one now. The Japanese have kindly given us an issue of uniforms.
Are you able to manage on your allowance, to keep up the house payments, run the car and insurance? I should like to know these things.
Give my love to the children and tell them I shall be coming home some day. Kind regards to all our friends and fondest love to you all.
Your loving husband and Daddy,
F.V. Dennis
Mother responded the next day.
My Darling Vic,
At last your first letter has come, and I need not tell you what it has meant to see your own handwork, and to know you are all right, and receiving good treatment. Do you take part in any sports? Or can you do any reading or studying? I should like you to describe a typical day in your life.
Yes, my dear, of course I can manage on my allowance.
I have not missed any payments of anything yet, and I owe nothing in the way of doctors' or dentists' bills. I have not been able to save much though, darling, but you must not worry about any of these things. We are getting on just fine and I certainly realize that I am very fortunate indeed. The car has given me no trouble this year at all — not even a flat tire!
Yesterday was a terrific one for all of us. The letters came in by plane in the morning and were sent out special delivery. You can imagine the suspense until yours came, and all the phoning that went on among the women. Roger and Allen Massey took advantage of the situation and plastered themselves with mud in Massey's back yard, then wiped their hands on Mrs. Mortimer's clean sheet on the line so Mrs. Massey had to take it in and wash it!
My breakfast dishes were washed at noon, and my lunch ones at suppertime!!
May Baird and Amy Trist came over in the evening to celebrate, and stayed until 1.45!!
It was indeed a red letter day for all of us to know at last that Daddy was safe and able to write to us. Meanwhile, our many friends continued to support us. In October, the Hansell family invited us all to their home on Ash Street for Thanksgiving dinner. They had two teenage children, Joy and Roger, who kept us amused with their magic lantern slides while Mother helped in the kitchen. When we left, Mrs. Hansell offered us Joy's outgrown winter coat for Barbara to wear that winter. Mrs. Baird had already given Harvelyn's used coat to me, and Mother was relieved not to have the expense of two new winter coats. She told Daddy about taking them to a tailor for alterations.
People are very good to us. I had a very lucky break with winter coats this year. All three of the kids were in need of new outfits at once, and Mrs. Hansell and May Baird each offered me a very good outgrown coat, chamois lined and fur trimmed, for the girls, and very good cloth, showing very little wear. I took them to a tailor over on Nassau Street, who is altering them, and making the two of them like new, for only three dollars! Margaret's is green, and Barbara's is a soft, rosy brown. I am buying Roger a good outfit, to do him for two or three years, until he starts school. Eatons is holding a dark blue one for us. If they get any tweed ones in I would rather have that, but we can't get as much variety now.
When we'd first moved to our house on Dorchester Avenue, Daddy, with the help of our Uncle Charlie, had made a fishpond in our back yard. They dug a hexagonal hole and filled it with cement, and placed rocks and creeping plants around it to create a rock garden. Every summer, we filled it with goldfish, and in the fall we brought the fish into the house to spend the winter in a glass fish bowl. As the fish grew very large in their outdoor pond, they found the fish bowl confining, and every year some of them died. Mother had a trick — she'd sprinkle salt on an ailing fish, and sometimes she was able to save it, but not always.
On October 22, I wrote to tell Daddy our latest news.
Dear Daddy,
Mummy brought in the fish today and bought a new fish bowl, as the last one got broken. It looks very pretty and has got stones of pretty colours in the bottom. Roger said he would not pull fish out of the bowl like he did last year when he was two, so Mummy put it in the living room. They are very big things this year.
That night the weather turned cold, so Mother made a fire in the living room fireplace. Jennie Helston, Mother's oldest friend who had remained unmarried, came for supper. Jennie had been bridesmaid at my parents' wedding in 1932. Mother described the scene in a letter to Daddy.
Last night it was cold, so I put the fireplace on as Jennie was coming. The kids had their bath and then came down to sit around the fire for a story. They were so happy and cozy, and Barbara said, 'Oh, I just wish I could go out and get all the poor people in the world, and even the bad people, and let them all come in and enjoy this lovely fire and this lovely room!' She has the nicest thoughts. Margaret looked awfully pretty, sitting there with her curly hair and pink cheeks. She is so sweet looking, Vic. Her face is just like a heart. Barbara is funny looking right now, as her front teeth are out. Roger looks more boyish than babyish now. I know just how you long to see them again dearest, so I just try to tell you as much as I can about them all.
I hope it doesn't make you more homesick, reading it.
Just remember that every day brings our reunion nearer, and the more we try to make the best of life as it is now, the more we'll be like our cheerful selves when we meet again. I don't want you to find me a sorry, disgruntled creature when you come back, so I am trying to keep my usual happy attitude to my daily life. Really, I think the only thing that could take my happiness away would be to know that I had lost your love, Vic. And I am not worrying about THAT!
Throughout the long years of waiting, Mother kept true to her word. Although we must have tried her patience sorely on may occasions, most of the time she managed to remain calm and philosophical, and never a day went by that she failed to remind us that our father would return to us, however long it took for the war to be over.