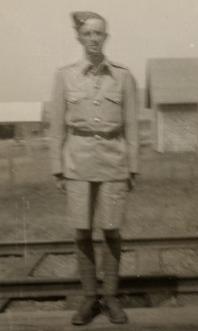 Major M. A. Parker, CO,"D" Coy, and Byron Willet, Maj. Parker's batman. The two men held each other in high regard.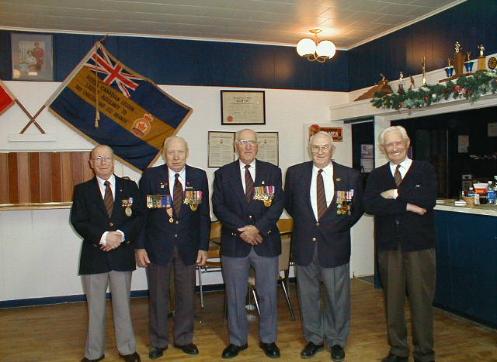 From left to right:
Paul Dallain, Arnold Ross, Bob Barter, Phil Doddridge, Lance Ross
In December, 2002, these Hong Kong Veteran's were honoured by Her Majesty Queen Elizabeth II who bestowed upon them the "Queen's Jubilee Medal" in recognition of the work they have done in their communities. After all they have been through they are still doing more than their share to make this a better world to live in.


Gander, A soldier's best friend.
We must not forget the magnificent Newfoundland dog, Sgt. Gander, who outgrew his family in Newfoundland and became our mascot. Like others of his breed he was a huge, gentle, lovable animal, a favourite of all the men in the Regiment. He was looked after by his handler Fred Kelly but I think he had love enough to go around as he showed great affection for all of us. As Regimental Mascot he went everywhere with us, including Hong Kong.
Gander died in Hong Kong defending the men he loved. He was a very brave dog. Three of his acts of courage are recorded. As the Japanese were landing on the beach at Lye Mun Gander rushed at them barking and biting at their legs. Another time some injured Canadians were lying, under cover, by the road as a group of Japanese advanced towards them. Gander charged at them causing them to change direction thus saving the Canadians. His last act of gallantry cost him his life. During heavy fighting a Japanese grenade landed close to some troops. Gander picked up the grenade on the run and continued away from the soldiers. The grenade exploded ending Gander's life. He was awarded the Dickin Medal for "acts of conspicuous gallantry and devotion to duty in wartime." Fred Kelly was the happiest man alive when he was chosen to receive the medal honouring Gander.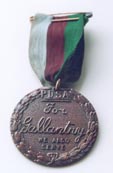 The Dickin Medal. Also known as the Victoria Cross for animals.