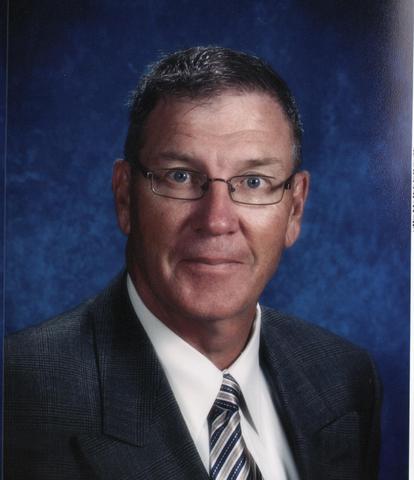 In December 2016, my son John and I embarked on a trip to Hong Kong. Our purpose was to trace the story of my father, Bernard Jesse, a member of the Winnipeg Grenadiers "C" force, and to retrace the memories recorded in his book "Seared in My Memory".
It was a significant year to make this journey, as 2016 was the 75th Anniversary of the Battle of Hong Kong. We began our trek on December 4th by participating in the annual Canadian Commemorative Ceremony at Sai Wan War Cemetery, the resting place for over 2000 Commonwealth soldiers. Over 600 individuals from Canada and Hong Kong attended this moving ceremony. Most significant for us was the presence of four individuals who participated in the battle, including a 96-year-old member of the Hong Kong volunteer defense.
A profound comment made at the ceremony struck us personally and created a greater sense of how important and misunderstood this event is in our perceptions of WWII:
"The defense of Hong Kong was the first shot taken by a Canadian in WWII, and following the defeat and their captivity they were the last Canadians to return home."
As many authors and historians have noted, the defense of Hong Kong and Canada's presence in Asia during WWII is not well recognized nor seldom included in our national historical discussions. Perhaps this is due to the attack on Hong Kong being overshadowed by the simultaneous attack on Pearl Harbour, or perhaps because Hong Kong was a military defeat for the Commonwealth forces, in spite of the extreme valour and bravery of the forces assigned to the island's defense.
As we travelled across Hong King Island and Kowloon, we traced the locations, dates and events recorded in my Dad's book, Tony Banham's book "Not the Slightest Chance", and the extensive knowledge of our local historian and guide, Martin Heyes, significantly supplemented our journey. Our hikes and stops through the Wong Nai Chong and Wan Chai gaps as well as the Gin Drinkers Line helped us better understand the challenging topography, strategic mountain locations, and reservoirs that were coveted territory for control of the island.
Historical photographs and records made us realize how much different the landscape would have been in December 1941, not only due to incredible building and population changes that have occurred over the past 75 years, but also the reforestation that has occurred. Both the island and New Territories forests had been clear-cut in the early and mid 1900's to supply wood to other parts of Asia. Defending the low lying areas from large forces stationed on the mountains and upper trails would have been challenging if not impossible even with sufficient armaments, soldiers and an effective strategic plan.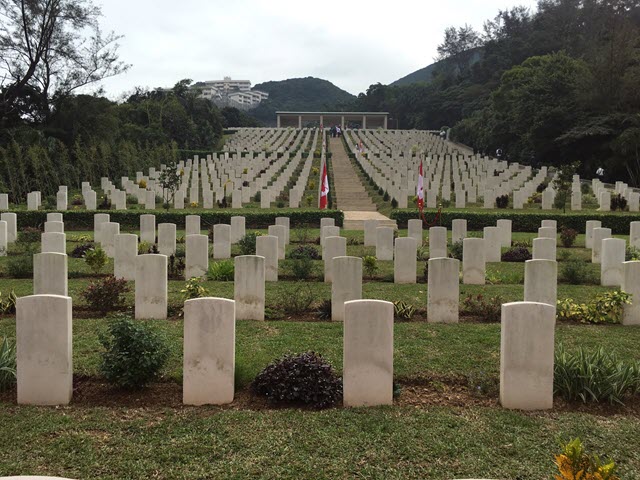 Sai Wan Cemetery
History records the many strategic errors that contributed to Hong Kong's capture. We learned a great deal about this at a visit to the Naval Defense Museum and during our tour of the New Territories and the Shing Mun Redoubt area. As we hiked the trails, toured the pillboxes and tunnels built to defend the most significant reservoirs, we experienced a deep sense of battle conditions and the impossibility of defending Hong Kong.
Our subsequent trips to Stanley Cemetery and retracing our steps back up through the gaps helped us identify the area where we believe my father and his company surrendered on December 24, 1941.
Our final days took us to the Sham Shui Po Camp area, now a beautiful urban park. This location and North Point Camp, was where POWs were detained. Some were imprisoned here for the entire war while others, like my father, were sent to Japan to work in hard labour camps. The North Point camp is no longer locatable due to extensive shore reclamation and massive urbanization.
Two small plaques are all that remain of the Sham Shui Po Camp. This peaceful courtyard stirred powerful emotions in us; a spot where 75 years ago, soldiers including my father were imprisoned and mistreated. The plaques contain profound words "In Memory of All Who Died In Battle of Hong Kong, in the Prison Camps, and Since as a Result of Their Suffering ".
Will all the details of every troop movement, location and decision ever be realized? That is unlikely and probably impossible. More valuable is the tremendous work of the HKVCA, dedicated historians, and the many families who contribute to its historical records, as they have provided us all with a living journal and a record that none of us as the descendants of this horrific event and subsequent imprisonment and violation of every human right and dignity should ever forget.
What did our 10-day journey reveal to us? It is impossible to answer this in a few short sentences, but it was certainly a life-altering experience. To walk the trails, see the remnants, learn the history, appreciate the geography, and better understand the motives and strategies of both the Allies and Axis forces, brought my Dad's personal story to life.
As we toured, talked and analyzed the events of 75 years ago, interpreted through our current global condition and status, we felt how one soldier's involvement in WWII has profoundly affected who we are and how we view the world. Our visit gave us the very precious gift of perspective for what my Father and his fellow soldiers endured and shed some light into the wounds, both physical and emotional, that he bore when he returned home.
Will we return? Time will tell, but our extended family and the next generation of descendants will never forget how profoundly important our parents' generation were in defending a way of life they envisioned for us all through the giving of their lives or the living hell they all endured both in prison and upon their return. My Father returned home from Hong Kong as man marked but not defined by his struggles and perseverance during his time there. My son and I also returned from the same place as changed men, with a deep appreciation for the experiences of my Father and a perspective for how his history forms a part of who my son and I are to this day.
Howard Jesse is the son of Bernard Jesse Winnipeg Grenadier 'C" Company who authored his personal experience in the defence of Hong Kong in a book entitled "Seared in My Memory". Howard retired from the Regina Public School Board in 2009 having held positions as a social studies teacher, curriculum developer, vice principal and principal. In those capacities he made numerous regional and provincial presentations to colleagues students and the community on the Battle of Hong Kong and the impact it had on his father, mother and family. Howard and his siblings have been members of HKVCA for a number of years and value the work they do to record the past, and informing us of our current role in supporting all veterans.