Looking for a novel way to celebrate Canada's 150th?
In Ontario Region we've begun providing commemorative plaques for installation in places where Hong Kong Veterans have formed an attachment over the years, such as Legions, retirement homes where they may have resided, high schools where they may have made presentations to students and so on. We provide these plaques free of charge.
So far, we've installed two, and there are several more in the process of being arranged.
The most recent installation was at the Royal Canadian Legion in Niagara Falls (A.C. McCallum Memorial Branch 479). Two Hong Kong Veterans, Ken Pifher (RRC, deceased) and 99 year-old Gerry Sunstrum, have been long time members of that branch. On May 13, Gerry unveiled a commemorative plaque in honour of the Battle of Hong Kong, in the presence of 25 or so family and friends and quite a collection of news media.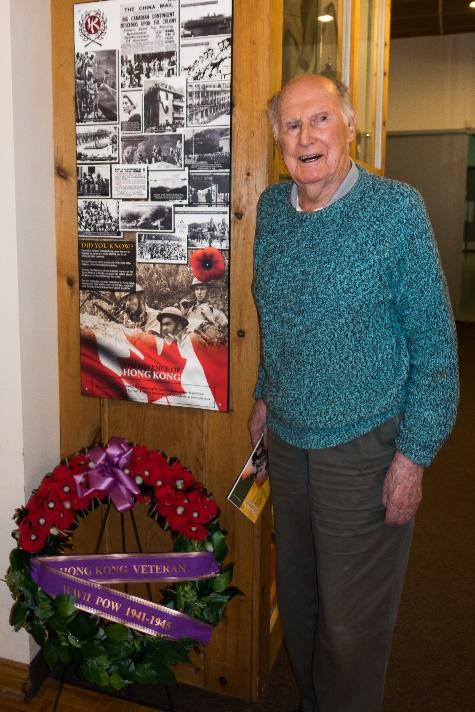 Gerry Sunstrum and the commemorative plaque
At the same event a watch belonging to a fallen RRC soldier was returned to his next of kin. Read about this amazing story in Lori Atkinson Smith's article.
Ontario HKVCA members who are interested in placing a plaque should contact Lori Atkinson Smith for more details. The Canadian flag on the plaque ties in beautifully with Canada 150 celebrations!
Another recent event was the Foundation Day Dinner of the Royal Hong Kong Regiment (The Volunteers) Association. The dinner commemorates the founding of this unit in 1854 as the Hong Kong Volunteers, later renamed the Hong Kong Volunteer Defence Force. Some 2,000 members of this group fought against the Japanese along with Canadians in the Battle of Hong Kong. Many were subsequently imprisoned as POWs, suffering under the same brutal condition as Canada's soldiers. After the war, the group was renamed the Royal Hong Kong Regiment (The Volunteers), and stayed as such until it was disbanded in 1995.
The Association is composed of former members of the RHKR, all of them immigrants to Canada from Hong Kong. They are proud Canadians, and every Foundation Day Dinner begins with a vigorous singing of O Canada.
RHKR members have long been strong supporters of the HKVA and HKVCA. They have been involved in our fundraising efforts, our educational work, and since it began, have sent a delegation from Toronto to the Memorial Wall in Ottawa for our ceremonies there. To recognize the RHKR's terrific support, I was very pleased to present at the dinner a certificate of appreciation on behalf of the HKVCA to the President of the RHKR Association, Lt Larry Lau (Ret'd).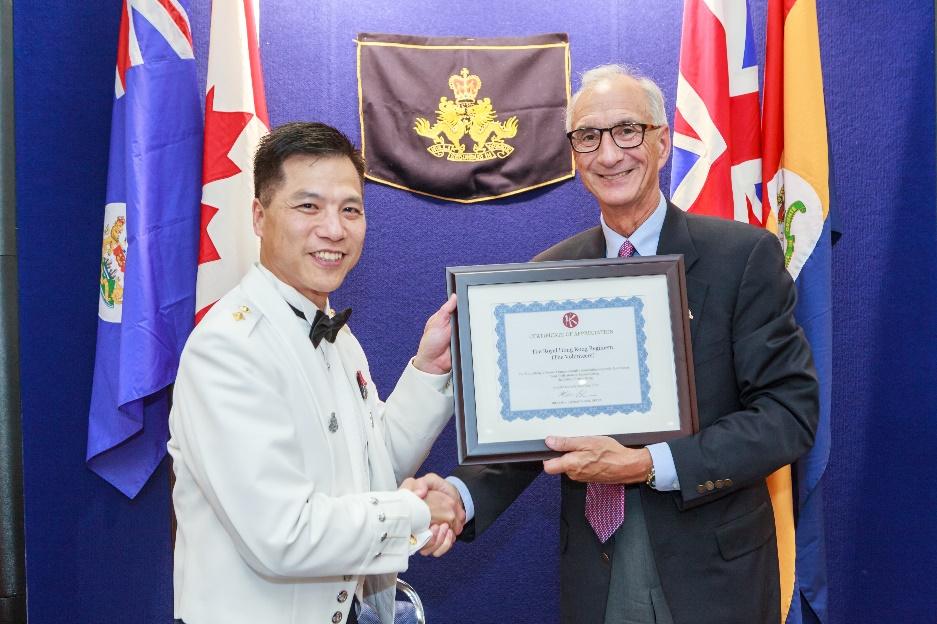 Larry Lau, receiving a certificate of appreciation
On Saturday, May 13 2017, at Branch 479 of our local Niagara Falls Legion, I was excited and privileged to arrange our annual HKVCA spring luncheon which turned out to be something very noteworthy. The 29 people who attended got to see history in the making!
Fortunately, it was well reported in the press so I'm sure many are of you are already aware of what took place by viewing the coverage on our HKVCA website.
Firstly, our own local, 99 year old Hong Kong Veteran, Gerry Sunstrum, RRC, unveiled a plaque commemorating The Battle of Hong Kong. This is no ordinary metal plaque with words engraved on it, but rather a large (44" X18") colourful , descriptive plaque with photos and short narratives depicting and describing the Battle of Hong Kong. I think it appropriate to mention that another Hong Kong Veteran, Arthur Ken Pifher, RRC, was also a long time member of Branch 479. It is Ontario's hope to mount these plaques in many appropriate venues.
Secondly, a watch was found by Dave Willott, a member of a group who use metal detectors in Hong Kong to uncover military memorabilia. What made this discovery extraordinary was that after the watch had been cleaned, an engraving on it's back, "Ray Donald Jackson, Royal Rifles of Canada", became clear. Unfortunately, Ray Jackson was killed in action on December 23, 1941, at 21 years of age. Dave Willott contacted members of the HKVCA, who, working with historian Lillian Randall, were quickly able to locate Ray Jackson's next of kin, Steve Burgess, a great nephew who was already an enthusiast and collector of war memorabilia. The watch was presented by Lori Atkinson Smith to Steve Burgess, in a beautiful, hand carved walnut box created by artisan Leigh Hardwick. It had the Royal Rifles of Canada emblem engraved on the top. For 76 years that watch had lain in the ground by Stone Hill in Hong Kong awaiting it's eventual, amazing discovery and to be returned to Ray Jackson's next of kin. It was truly an unforgettable event and an honour for all of us present to witness the plaque unveiling and watch presentation.
If you are some of the few who haven't seen the press coverage of these two wonderful events, go to the HKVCA website and watch it. You will be as awed as we were.
I hope all of you in our HKVCA family enjoy our always too short summer.