HOORAY!!! I join the army
In 1940, I joined the army. I had just turned eighteen and had never been away from home, not even as far as Campbellton, some fifty miles away from New Richmond.
It was the early summer, and things were going badly in Europe. The attempt by Britain to invade France at Dunkirk had failed miserably, and it looked as though Hitler's next stop would be London.
In 1940 I was largely ignorant of world affairs, but some stories of derring-do from World War 1 had always intrigued me, and joining the Canadian Army seemed to be a good way to taste a bit of adventure. Also, the Gaspe was still locked in the depression, as well as all of Canada, and jobs on the Gaspe were practically non-existent.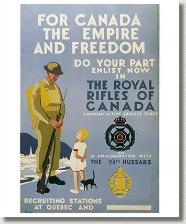 One July evening, Clifford Gilker, Billy Stewart, and I, all brave lads, were strolling "down the road", the main thoroughfare, taking care not to stumble over the gravel stones that paved the way. When we came to the "Cascapedia Hotel", one of the two watering holes in town, there in the window was a recruiting poster, imploring all who could read to join the Royal Rifles of Canada. I said to my friends, "Let's go in and see." Clifford agreed, but Billy said, "No, I have my application in for the Air Force, and I´m waiting for a call."
Clifford and I went in and Captain Leboutillier signed us up. Poor Billy**. I think that was the last time I saw him. His name later did come up for the Air Force. He went to England, became a pilot, and was shot down over Europe. As far as I know, his body was never recovered.
Clifford, who was a bit younger, was released from the army. Still later he joined the Royal Canadian Navy, and served with honour until the war's end.
When I got home the night I had "crossed the Rubicon" I went to my father's bedroom and told him of my decision to join the army. He advanced no argument, no doubt being mindful of the differences of opinion we had about my reluctance, nay, my refusal, to continue in school.

Mother was tearful, but did not raise a fuss. The next day I was off to New Carlisle on the back of Eric MacWhirter's gravel truck.
I was put through a brief medical examination, and swore to protect England, Canada, and all the Commonwealth, in the name of His Majesty, King George VI. I felt very important. Byron Willett sang, "we're´re gonna hang out our washing on the Sigfried Line. Have you any dirty washing Mother Dear? We're gonna hang out our washing on the Sigfried Line ... if the Sigfried Line´s still there." Little did we know!
The next day the group of us boarded the train, bound for Quebec City. After a brief stay at the Citadel, we were off to Camp Valcartier, at that time, one of the biggest training bases in Canada, and a holdover from WW I. There we were met by Sgt. Maj. Todd, who showed us to our huts, and exhorted us to fill our "pailliasses", cotton mattress covers, sparingly with straw, because, he said, the straw would lump up and make the mattress uncomfortable.
We gullible types complied, only to find out that a handful of straw between the body and the hard floor didn't provide much comfort.
One day on parade Sgt. Maj. Todd asked, "Who can drive a car?" I immediately stepped forward, thinking I would get away from foot drill in the hot sun. "Fine," said Todd, "Go wash the Colonel's car." That was my first lesson in the old army saying, "Never volunteer!" Poor Todd.* He was killed in Japan while working in the shipyards.
* Todd, E.C. E/22890, WO2, Died December 5/44, age 36 Royal Rifles of Canada
**Stewart, W.B. J/15486, Died June 13/44, age 22, Squadron Leader, R.C.A.F. Buried Forenville, France