Inductees - The Canadian Veterans Hall Of Valour
(information submitted by Ron McGuire)
2006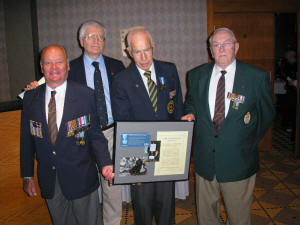 Induction of "Sgt" Gander, Dicken Medal, RRofC
left to right-Sgt. Robert "Flash" Clayton, Ken Ewing and Phil Doddridge, all RRofC, holding the frame prepared by Ron McGuire [standing beyond the lads] concerning Gander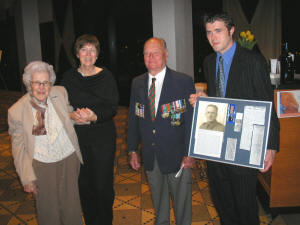 Induction of Sgt. Kenneth Cameron, MM, RCOC, Brigade HQ
left to right-Mrs. Irene Cameron [widow], Sandi Cameron [daughter] Sgt. Robert "Flash" Clayton who read the Induction statement, and Tyler O'Crean [grandson].
Induction of Sgt. Charles Clark, DCM, CPC, Brigade HQ
Ron McGuire holding the Induction portfolio and the frame he prepared for Sgt. Clark. After much effort Ron is still trying to locate descendents of Charlie to give them the portfolio. Anyone who can help please contact him.
---