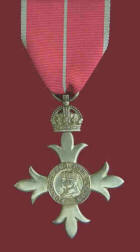 PORTEOUS, George, Supervisor, MBE
Auxiliary Services (Young Men's Christian Association)
HONG KONG AWARD
Canada Gazette dated 15 June 1946 (No. 24, Vol. 80, p.3849) and CARO/6632 dated 17 June 1946.
During the period of hostilities at Hong Kong, Supervisor Porteous of the Young Men's Christian Association served as Auxiliary Supervisor to The Winnipeg Grenadiers.
Under fire and unaccompanied he visited all Company Headquarters and distributed comforts for the troops several times between 8 and 25 December 1941. Volunteering to assist in any capacity, he took regular tours of duty at Battalion Headquarters, thus relieving combatant officers for field duty. After the Battalion Chaplain had been captured by the Japanese, Supervisor Porteous was appointed Acting Chaplain and Honorary Captain by the Commanding Officer for the duration of hostilities.
Supervisor Porteous was injured on the night of 23rd December, but refused to relinquish his duties and carried on until 26 December, when he collapsed from exhaustion and as a result of his injuries. By his splendid spirit and willingness he contributed to the defence effort in the performance of duties which were considerably more than could be reasonably expected of him. By his actions he secured the greatest respect of all officers and men of the battalion. Throughout the long and unpleasant period of captivity Supervisor Porteous was very helpful, doing everything he could to make the lot of the men happier. During the several periods in which dangerous epidemics ravaged the camp, he took his life in his hands to assist in any way he could.
---
---